US/China trade war "on hold"; Beijing agrees to "substantially reduce" surplus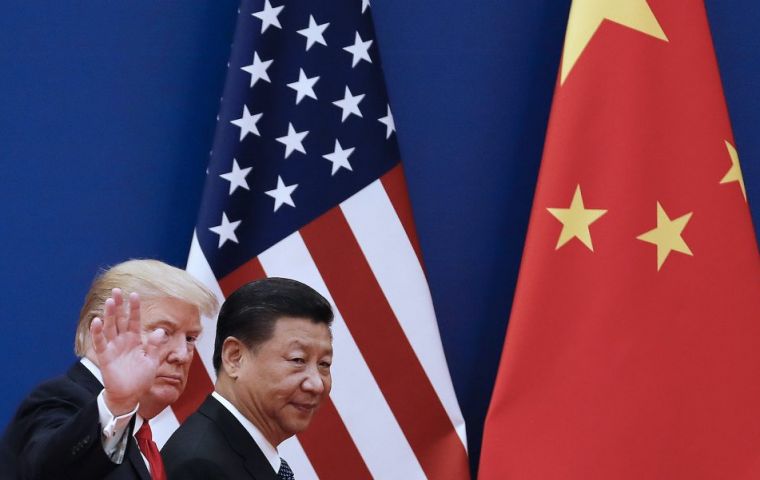 The United States and China are pulling back from the brink of a trade war after the world's two biggest economies reported progress in talks aimed at bringing down America's massive trade deficit with Beijing. "We are putting the trade war on hold," Treasury Secretary Steven Mnuchin said on Sunday.
After high-level talks Thursday and Friday in Washington, Beijing agreed in a joint statement with the U.S. to "substantially reduce" America's trade deficit with China, but did not commit to cut the gap by any specific amount. The Trump administration had sought to slash the deficit by US$ 200 billion.
Still, Mnuchin said the two countries had made "meaningful progress" and that the administration has agreed to put on hold proposed tariffs on up to US$ 150 billion in Chinese products. China had promised to retaliate in a move that threatened a tit for tat trade war.
He said they expect to see a big increase — 35% to 45% this year alone — in U.S. farm sales to China. Mnuchin also forecast a doubling in sales of U.S. energy products to the Chinese market, increasing energy exports by US$ 50 billion to US$ 60 billion in the next three years to five years.
Commerce Secretary Wilbur Ross, who has been part of the U.S. negotiating team, will go to China soon to follow up on last week's discussions, Mnuchin said.
In Saturday's statement, Beijing committed to "significantly increase" its purchases of American goods and services, saying the increase would "meet the growing consumption needs of the Chinese people and the need for high-quality economic development."
Last year, the U.S. had a record US$ 376 billion deficit with China in the trade of goods; that was the largest by far with any nation.
Trade analysts were not surprised that China refused to agree to a numerical target for cutting the trade gap, but they said the talks probably were more successful in easing trade tensions.
"The Trump administration seems eager to engineer at minimum a temporary peace with China to ensure a smooth run-up to the Kim-Trump summit in June," Cornell University economist Eswar Prasad said, referring to the June 12 meeting scheduled between President Donald Trump and North Korean leader Kim Jong Un.
If there is success in the U.S.-China discussions, analysts suggest it likely would involve the countries' presidents this fall before the November elections.
"Part of the good news for markets: As long as both sides continue to be 'constructively' engaged, imposition of additional tariffs by either side is very unlikely," analysts at investment management firm Evercore ISI said in a research note. "There is no reason for either side — particularly the U.S. — to destroy the process that both sides are building, which is what imposing tariffs would do."
Sen. Lindsey Graham, R-S.C., praised the administration's efforts with China. "It's smart to engage China on trade abuses, and it would also be smart to get them more involved in trying to help us with North Korea," Graham said.