Pompeo threatens Iran with "strongest sanctions in history"; Teheran says US was regressing to "old habits"
Tuesday, May 22nd 2018 - 06:51 UTC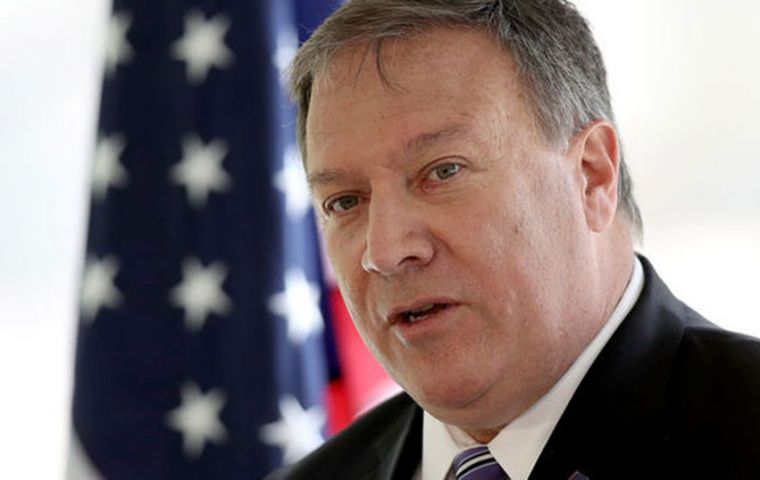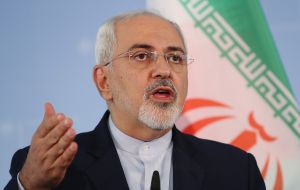 Secretary of State Mike Pompeo has said the US is imposing the "strongest sanctions in history" on Iran. In a speech on Monday in Washington, America's top diplomat said Iran would be "battling to keep its economy alive" after the sanctions took effect.
His Iranian counterpart said the US was a prisoner of its "failed policies" and would suffer the consequences.
Earlier this month, President Donald Trump took the US out of the landmark 2015 Iran nuclear deal. EU foreign policy chief Federica Mogherini said Mr Pompeo had not demonstrated in his speech how abandoning the deal made the region safer from the threat of nuclear proliferation.
US sanctions lifted after the 2015 deal will be re-imposed, Mr Pompeo said, and those and new measures will together constitute "unprecedented financial pressure on the Iranian regime".
The older American sanctions prohibited almost all trade with Iran, making some exceptions only for activity "intended to benefit the Iranian people" such as the export of medical and agricultural equipment.
The secretary of state did not say what new measures Washington was contemplating but he described sanctions imposed last week on the head of Iran's central bank as "just the beginning".
Some of Europe's biggest firms who rushed to do business with Iran after the nuclear deal now find themselves forced to choose between investing there or trading with the US.
Iran is one of the world's largest oil producers, and the export of oil and gas is worth billions of dollars each year. Both the country's oil output and its GDP fell noticeably under international sanctions.
The sanctions will not be re-imposed on Tehran immediately but are subject to three-month and six-month wind-down periods.
"Iran will never again have carte blanche to dominate the Middle East," Mr Pompeo said.
Javad Zarif said America was "regressing to old habits". Iran, he added, was working with the other partners of the nuclear deal to find a solution.
Mr Pompeo laid out 12 conditions for any "new deal" with Iran, including the withdrawal of its forces from Syria and an end to its support for rebels in Yemen.
Others include Tehran giving the International Atomic Energy Agency (IAEA) a full account of its former nuclear military program, and giving up such work forever; ending its "threatening behavior" towards its neighbors, including "its threats to destroy Israel, and its firing of missiles into Saudi Arabia and the UAE"; releasing all US citizens, and those of US partners and allies, "detained on spurious charges or missing in Iran"
Iran has spread its influence across parts of the Middle East where there are large communities of fellow Shia Muslims, from Iraq to Lebanon. Its support for Lebanon's Hezbollah movement is particularly alarming for Israel while Saudi Arabia, another bitter enemy, accuses the Iranians of equipping rebels in Yemen.
In the Syrian civil war, it is one of President Bashar al-Assad's few outside allies, sending thousands of fighters and military advisers.
Mr Pompeo has made clear he expects the backing of his allies in Europe but also called for support from "Australia, Bahrain, Egypt, India, Japan, Jordan, Kuwait, Oman, Qatar, Saudi Arabia, South Korea [and] the UAE".
"We welcome any nation which is sick and tired of the nuclear threats, the terrorism, the missile proliferation and the brutality of a regime at peace with inflicting chaos on innocent people," he said.