(Brexit) UK and Argentina on the same intelligent reinsertion to the global community
Wednesday, May 23rd 2018 - 06:16 UTC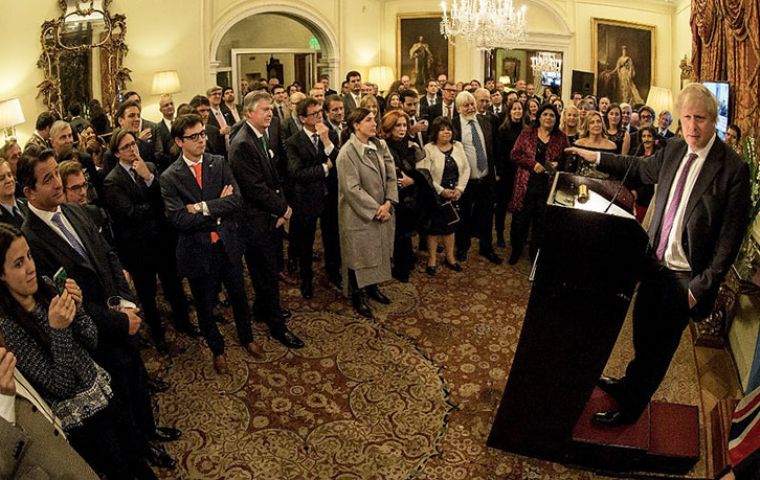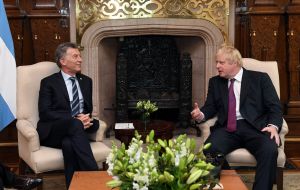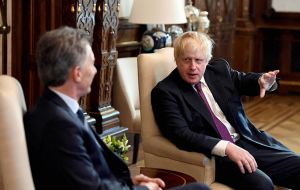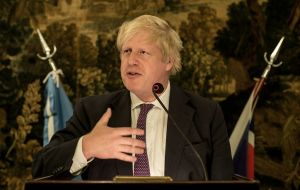 Foreign Secretary Boris Johnson forecasted a "new, exciting phase" in Anglo-Argentine relations as he wrapped up his visit to Buenos Aires. Johnson visited Argentina to attend the G20 Foreign Ministers summit. His visit was the first by a British Foreign Secretary in over 20 years.
"We should hail this moment, celebrate this moment of intelligent reinsertion", Johnson told a crowd of politicians, business people and cultural leaders gathered for a special event hosted by British Ambassador to Argentina Mark Kent.
The former Mayor of London had words of praise for his "esteemed former mayoral colleague Mauricio Macri", noting that under President Macri Argentina had "engaged in what he (Macri) has called intelligent reinsertion into the global community".
"This is happening at the very moment when our country, the United Kingdom, is intelligently reinserting itself into the global community", Johnson added. "Not by being less European", he warned, instead by being "more global, more outward looking and more engaged with the world, particularly with this part of the world".
"It has been very encouraging to see what is going on here in Argentina", Johnson said.
"I cannot escape the great question hanging over this visit which is: why am I the first Foreign Secretary to come to this country in 25 years", he said. "Were my predecessors lazy, were they stupid, were they ignorant of this incomparable country?" he added, jokingly.
"Surely they knew about the snows of Patagonia, the sizzling steaks the size of plates, the velvety malbec… And surely they knew of the invincible anglophilia of so many people in this country, which has survived. They must have known about that".
"There are two reasons they didn't come", Johnson suggested. "The first is that Anglo-Argentine relations weren't always brilliant. But there is another reason and that is that for decades the world view of the United Kingdom has —perhaps, this is my theory— been a little Eurocentric and a little less instinctively global than it was before we joined the common market in 1973".
The UK's top diplomat celebrated the presence of British businesses in Argentina and pointed to early signs of an improved "developing" relationship.
"We built the railways once why shouldn't we do it again?" he pondered, referring to the possibility of a win for British bids in the underground network expansion in Buenos Aires.
"We are already the second biggest consumers of Argentine wine in the world. That is before we have done the free trade agreement that we are going to do".
"There are massive, massive opportunities", he concluded.
Throughout the tour Johnson has focused on the prospects of strengthening trade and investment ties with countries in the region. "There are big opportunities for UK business here. We don't do nearly enough. There's a low base, but we are going to build on it very fast," he said.