Falkland Islands second air link announcement expected after June 13th
Wednesday, May 23rd 2018 - 20:25 UTC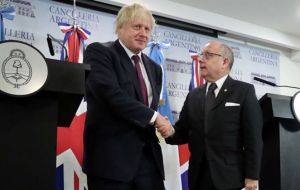 The Falkland Islands government announced on Wednesday it has received an evaluation report regarding a second weekly air link to the Falklands, from specialist consulting Aviation Economics, and will be briefing the Executive Council at their 13 June meeting, and recommending a response to the proposed options.
Under the heading "Evaluation report for second air link received by Falkland Islands Government", the release states the following:
"Following a formal procurement process, the Falkland Islands Government has now received an evaluation report from specialist consultancy Aviation Economics, which sets out the responses from a number of airline operators interested in providing a second weekly air link to the Falkland Islands.
"This report follows a rigorous assessment process whereby each proposal was examined in detail. Members of the Legislative Assembly will shortly be briefed on the contents. Following this, a briefing will be prepared for the Executive Council meeting on 13 June, recommending the Government's response to the proposed options, along with the next steps.
"For obvious reasons, this work remains confidential at this stage. The outcome of this exercise will be shared with the public following the ExCo decision on 13 June.
"Barry Rowland, Chief Executive of the Falkland Islands Government, said: "Our primary aim is to ensure the right outcome for the Falkland Islands. We commissioned leading experts within the field of aviation to conduct a rigorous commercial exercise, carried out to the highest possible standards."
The release follows the three-day visit of Foreign Secretary Boris Johnson to Argentina, where his counterpart Jorge Faurie said the two countries were analyzing five South American airlines' proposals for a second flight to the Falkland Islands with a stopover in Argentina
Two of the carriers are based in Chile, two in Brazil and one in Uruguay, Faurie said in a joint news conference with British Foreign Secretary Boris Johnson, without naming them.
LATAM Airlines operates the only flight to the Falkland Islands from South America, once a week from Chile. Once a month the flight stops in Rio Gallegos, Argentina.
A decision on the new flights will be made in coming months, Faurie said.
"I certainly intend to be among the first passengers," Johnson said following the announcement.