Blow to Rajoy: 29 members of the ruling party convicted for corruption
Friday, May 25th 2018 - 08:23 UTC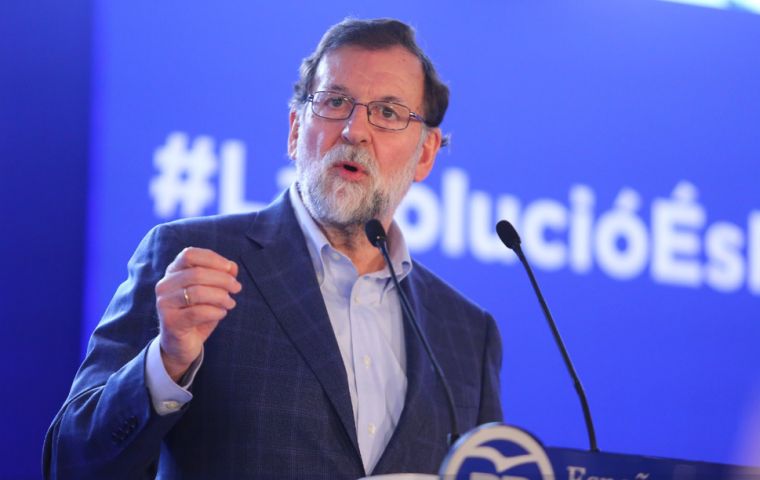 A Spanish court has issued hefty prison sentences for politicians and business people involved in a kickbacks-for-contracts scheme that helped fund Spain's governing party. The National Court's decision is a major blow for Spanish Prime Minister Mariano Rajoy's Partido Popular, fined 245,000 Euros because it benefited from the illegal scheme that was in place between 1999 and 2005.
The court said it was the first such conviction for a Spanish political party. A panel of three judges also fined a former health minister for accepting gifts as part of one of the largest corruption scandals in the country's modern history, but did not find any wrongdoing by current members of the government.
Mr Rajoy, who last year became the first Spanish prime minister in office to testify as a witness, told the court he was not aware of the party's accounting practices when the illegal funding scheme was in place. He was the party's vice secretary general and then its secretary general until 2004.
Francisco Correa, the businessman considered the scheme's mastermind, was sentenced to nearly 52 years in prison and Luis Barcenas, who was the party's accountant for three decades and a PP senator, to 33 years and more than 44 million Euros in fines.
Altogether, 29 of 37 defendants in the case were convicted for tax evasion, fraud, money laundering, misuse of public funds and abuse of power, among other crimes, and sentenced to a total of 351 years in prison.
In a ruling of nearly 1,700 pages, the court decided to acquit eight of the defendants, although one of the three magistrates said that four more should be acquitted and voted against convicting PP as a beneficiary of the scheme.
Correa, 62, was found guilty of controlling the network of aides and companies that arranged travel and organized events for PP in exchange for public contracts. Pablo Crespo, a key aide to Correa, was sentenced to 37-and-a-half years in prison.
Barcenas, who resigned as party treasurer in 2009 but kept his seat in the country's Senate for another year and an office in the party's headquarters until 2013, admitted during the trial that he kept the illegal party funding hidden and said that top officials were aware of the illegal contributions.
The party denied the claims. Rajoy has said he never met Correa and that he was the one who, as party president in 2004, ordered a halt to contracts with Correa's companies upon learning that they were misusing the conservative party's name.