Brazil agriculture fears consequences of a US/China trade understanding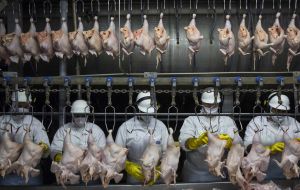 The trade dispute between the United States and China has benefited Brazil so far but could prove harmful long term as higher grain prices will make the country's exports less competitive, Brazil's farm minister said. Brazil is the world's leading poultry exporter.
Analysts and traders are betting that Brazilian producers will reap benefits from the duties China imposed on arange of U.S. products from soybean to frozen pork in response to U.S. President Donald's Trump's decision to place tariffs on steel and aluminum from countries including China.
But Brazil's agriculture minister Blairo Maggi fears the higher demand for soybeans will push local prices so much that it will hamper Brazil's competitiveness and eventually dent its market shares.
"I am very concerned. In the short term Brazil is gaining a lot, it's true," Maggi said, "but in the medium term and in the long term it can be a problem because nearly everything weexport, be it poultry or pork, rely on soy for food".
Brazilian prices have fallen sharply on international markets helped by a weaker real currency but higher demand pushed local prices higher, making feed more expensive for national poultry and pork output.
In local currency terms, a 60-kg bag of soy rose 8.3% to 85.97 reais (US$ 23.6) since March, according to price data from, Brazil's stock market and commodities futures operator.
"And if soybean rises in Brazil that means it is less expensive comparatively in the United States and since they are also poultry and pork producers, they will be more competitive and it will penalize us," Maggi said.