UK/Argentina agree to work together against antimicrobial resistance
Friday, May 25th 2018 - 08:27 UTC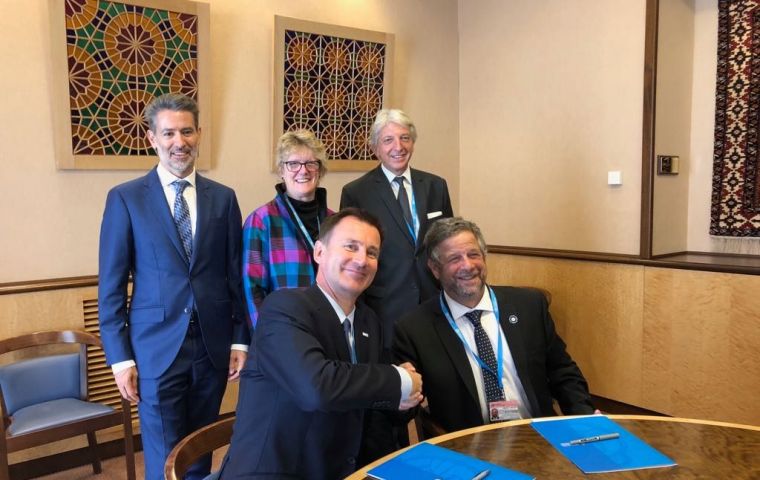 United Kingdom's Health and Social Care Secretary Jeremy Hunt has signed a Memorandum of Understanding with the Argentine Government to work together against antimicrobial resistance (AMR) in the environment.
Antimicrobial resistance (AMR) happens when microbes including bacteria, viruses, fungi and parasites no longer respond to the drugs we use to treat them, including antibiotics. This sometimes leaves us powerless to treat what we often consider to be routine infections.
The primary contributor to the development and spread of AMR is the wide use of antibiotics in human and animal medicine, including livestock production. The subsequent pollution of drugs and resistant microbes in the environment can further amplify the global spread of AMR. This poses a great threat to both human and animal health, including livestock productivity and food security, which disproportionally affects people in developing and emerging economies.
That is why the UK government's Global AMR Innovation Fund (GAMRIF), part of the Department of Health and Social Care (DHSC), has signed a Memorandum of Understanding with the Argentine Ministry of Health to work together on this issue.
To tackle the growing threat of AMR in agriculture and the impact on the environment, GAMRIF is committing £5m to a new bilateral UK-Argentina partnership with a resource-matched contribution from the Argentine National Scientific and Technical Research Council (CONICET).
This partnership will be delivered by the Biotechnology and Biological Sciences Research Council (BBSRC) and Natural Environment Research Council (NERC) on behalf of GAMRIF in the UK.
This partnership will support bilateral, cutting-edge, research and development projects to reduce the impact of AMR in the environment from agricultural sources. Projects will drive innovation for urgently needed tools and solutions which will benefit people in low and middle income countries (LMICs).
The joint funding opportunity will be launched in Autumn 2018, with more detail being released in the next coming months.
Secretary of State for Health, Jeremy Hunt said: "Working together with other nations to halt the threat of antimicrobial resistance is absolutely vital – because if we act alone, we will surely fail. Excess antibiotics in the environment can have a catastrophic effect and agreements like these will help to protect us in the future."
Professor Dame Sally Davies, England Chief Medical Officer said: "I am pleased that the Global AMR Innovation Fund will be working in collaboration with Argentina – because we cannot look at this as a human health problem alone. With this investment, we aim to support innovative research and development projects which have the potential to save human and animal lives, whilst ensuring food security and economic development in areas of the world which are disproportionally affected by AMR."
The UK-Argentina partnership was announced during a bilateral meeting attended by UK Health Secretary, Jeremy Hunt and the Argentine Health Secretary, Prof. Dr. Adolfo Rubinstein as part of the 2018 World Health Assembly taking place in Geneva.