Argentine church independence message: sigh of relief for embattled Macri
Saturday, May 26th 2018 - 08:54 UTC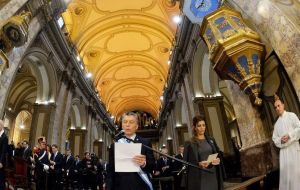 A sigh of relief from Argentine president Mauricio Macri and his administration following on Friday's Tedeum by the Archbishop of Buenos Aires, which marks the Church' message on May 25, the symbolic celebration of the first independence efforts during the 1810 Revolution.
Cardinal Mario Poli homily called for distributive justice, national unity, care for the poor and the unborn (referred to the ongoing abortion debate), but avoided talking about the current social situation and the fiscal adjustment Argentina will have to implement to recover economic stability and investors confidence.
Before the May Revolution celebration some Church representatives were extremely critical of the fact Argentina has appealed to the IMF to overcome the current situation, and also supportive of the most combative unions condemning the IMF accord.
But anticipating surprises, apparently the Macri administration approached Cardinal Poli. This is particularly significant since the Argentine government is currently discussing with IMF officials for a stand-by credit, and needs to adjust the budget to tougher leaner objectives.
Cabinet chief Marco Pena described the homily as "very wise words which we take into account and share, about the need of national unity, all Argentines shoulder to shoulder for a republic and homeland with greater equality, liberty and prosperity"
Asked about the reference to the abortion debate in congress, Pena said that the main objective of the Macri administration is "to reduce poverty, inequality, issues on which we coincide and share with the Church".
"The issue to which you refer is highly sensitive, with different perspectives, but what matters is that it is evolving in an atmosphere of great respect. We need to look into those common points on which to work so it is a forward pace, whatever the conclusion of the debate".
Vice-president Gabriela Michetti commented that as legitimately elected authorities, "we have come to ask God to enlighten us and to share his wisdom; we revere his message of unity and peace".
Mentions to the social situation are inevitable, "and Cardinal Poli addressed issues of poverty, unemployment, justice and abortion, on which the government coincides, and he had to address, and we didn't expect him not to do so", she added.
"I don't think it is our duty to judge the Church, they are struggling for a better distribution, to promote the message of God and to shelter the most vulnerable of our community, and on this we fully coincide, independently of the fact that we must not mix or confuse this as something political"
Previous to the religious ceremony in Buenos Aires cathedral and cardinal Poli's message, the head of the Social Pastoral Committee monsignor Jorge Lugones was quoted saying that "when you appeal to financial protagonism, there is no way out for the social situation".
Likewise the president of the Episcopal Conference, monsignor Oscar Ojea, received at his office the leading union leaders and social representatives who participated in Friday's protest march condemning dialogue with the IMF and the increase in inflation.