Landslide victory to legalize abortion in Ireland, according to exit polls
Saturday, May 26th 2018 - 09:13 UTC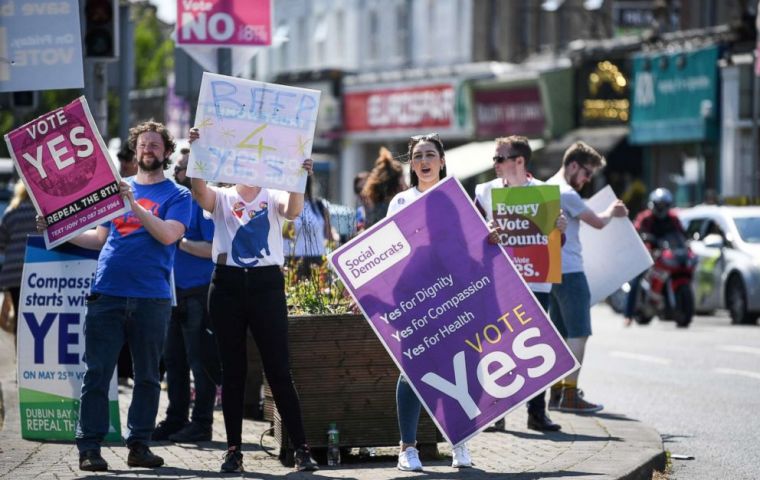 Ireland has voted by a landslide margin to change the constitution so that abortion can be legalized, according to an exit poll conducted for The Irish Times by Ipsos/MRBI.
The poll suggests that the margin of victory for the Yes side in the referendum will be 68% to 32% – a stunning victory for the Yes side after a long and often divisive campaign.
More than 4,500 voters were interviewed by Ipsos/MRBI as they left polling stations on Friday. Sampling began at 7am and was conducted at 160 locations across every constituency throughout the day. The margin of error is estimated at +/- 1.5 per cent.
Counting of votes begins on Saturday morning at 9am with an official result expected to be declared in the afternoon.
However, the size of the victory predicted by the exit poll leaves little doubt that, whatever the final count figures, the constitutional ban on abortion, inserted in a referendum in 1983, is set to be repealed. An exit poll published later on Friday night by RTÉ during the Late Late Show mirrored the projection seen in The Irish Times exit poll. The RTÉ poll showed 69.4% have voted for Yes, while 30.6% have voted for No.
Although polls had predicted victory for the Yes side, few anticipated the great wave of support for repeal of Eighth Amendment that swept Ireland. The highest Yes vote was in Dublin, where 77% of voters backed the proposals, The Irish Times poll predicts.