Brazilian government yields to demands of truckers week-long strike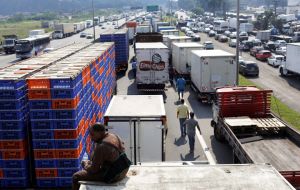 Brazil's President Michel Temer announced late on Sunday new measures to reduce operating costs for truckers in a bid to end a week-long protest that has severely hampered the flow of food, fuel and key exports in Latin America's largest economy.
In a televised speech, Temer said he was signing three decrees with immediate effect to address the main demands of truck drivers, who mounted hundreds of blockades on roads across the country to protest high diesel prices.
"We gave everything they have asked for," said Temer of the measures, expected to cost Brazilian taxpayers some 10 billion reais (US$ 2.7 billion). It was not immediately clear if protesting truckers would demobilize on Monday.
After seven days of protests, shortages of basic goods around the country had become increasingly critical. Hospitals reported a lack of medical supplies, while many farm animals are dying or being culled because of a lack of feed.
Brazil is a global leader in commodities exports and industry groups said they expected delays in shipments from everything from soybeans to meats and sugar.
Major cities such as Rio de Janeiro have sharply reduced public transportation, while many schools and universities said they would not open on Monday.
With gas stations low on fuel across most of the country, police and military forces have been escorting fuel convoys to supply ambulances, police vehicles and buses for public transportation in most large cities in Brazil.
One of the presidential decrees signed by Temer cuts diesel prices by 46 centavos per liter, or about 12% of its retail price, for a period of 60 days. The government will compensate state-led oil company Petrobras for the price cut.
Another decree ordered toll operators across the country not to charge for rear axles that are not in use, as is the case when trucks pass by the tolls unloaded. A third decree mandates the minimum fare for freight to be paid to truckers.
The measures were announced after several meetings between government officials and representatives for some trucker groups. The fractured leadership of the trucking movement has made it hard to gauge the acceptance of previous compromises reached by the government and negotiators from the industry.
Some highway blockades were cleared early on Sunday, as police started to fine drivers who left trucks at road sides. The military was ordered to remove unattended vehicles.
The military said that the entrances to some ports, such as Santos, Latin America's largest export hub, were cleared, but there were still no trucks arriving by late Sunday to the area to replenish silos and allow for ship-loading operations. Soldiers were reluctant to move against truckers, though they did serve as convoys for some fuel shipments. On Sunday, Gen. Eduardo Villas Boas, head of the Army, even tweeted that negotiation was the best way to avoid conflict.
Congress this week was also expected to debate various measures aimed at ending the shutdown.