Brazilian cocktail: Wall Street, oil prices, truckers strike and a weak government
Tuesday, May 29th 2018 - 08:48 UTC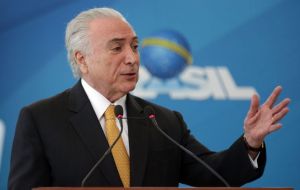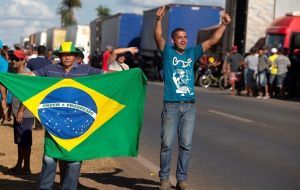 A nationwide protest by Brazilian truckers was slow to unwind on Monday, even after the week-long demonstrations against diesel price hikes got the government to cave to their demands, causing stocks and the currency to slide.
Brazilian truckers association Abcam, which says it represents at least 600,000 independent truck drivers, called on members to stand down, but warned that unwinding protests would take time.
"We are working to spread the word of a deal to all the drivers," Abcam said in a written statement. "It isworth remembering that even though we are calling for an end to the blockades, not all protesters agree with that."
By Monday night, most of the country had not returned to any semblance of normality. The truckers' protest left South America's biggest city and economic hub Sao Paulo, and hundreds of communities across the country, without fuel, emptying normally gridlocked roads. Hospitals said they were running out of supplies.
Schools canceled classes, businesses told employees to work from home and virtually every part of the powerhouse agribusiness sector said the damage was massive, if not yet quantifiable.
In a televised Sunday night address, President Michel Temer said he signed three decrees with immediate effect to address the main demands of truck drivers, adding that "we gave everything they asked for."
One of the decrees cuts the price of diesel at the pump by 12% for 60 days, another ordered toll operators across the country not to charge for rear axles that are not in use and another mandates the minimum fare paid to truckers for freight.
Finance Minister Eduardo Guardia said on Monday that the measures Temer announced will cost 9.5 billion reais (US$ 2.54 billion), of which 3.8 billion will come from cutting government expenses.
The benchmark Bovespa stock index dropped 4.5%, sliding into negative territory for the first time this year. Leading the losses was a nearly 15% plunge by Petrobras due to investor concerns about political interference in the state-led oil company's fuel pricing policy.
Brazil's currency also lost about 1.6% on Monday against the U.S. dollar on concerns about further pressure on the government's gaping fiscal deficit.
In the central bank's weekly survey released Monday, economists polled revised their economic growth forecasts to 2.37% growth in 2018, down from a median forecast of 2.5% the week before.
On Monday, as in previous days, thousands of schools remained closed, many flights were grounded and many supermarket shelves were empty. At the heart of the impasse is a fight over the future of the economy, particularly as it relates to state oil company Petrobas.
Temer's predecessor, President Dilma Rousseff, implemented price controls that worked as de facto subsidies, keeping prices relatively low regardless of what was happening in the world oil markets. However, beginning in 2014, the so-called "Car Wash" investigation uncovered a massive kickback scheme for construction contracts coming from Petrobras. The probe, which continues, has led to the jailing of several of the country's elite, from politicians like former President Lula da Silva to Petrobras directors.
In 2016, Temer, then vice president, took over for Rousseff when she was impeached and removed from office for illegally managing the federal budget. As part of a series of reforms aimed at pulling Brazil from a deep recession, Temer's administration said there would no longer be interference in Petrobras pricing.
The company recovered and grew, and market prices worked fine in the economy while world oil prices were low. But lately, the combination of rising prices and a sharp devaluation of the Brazilian real against the U.S. dollar has caused prices to jump. This was acutely felt by truckers, who move the majority of goods in the commodity-rich nation over a territory slightly larger than the continental United States.
Gilberto Braga, a finance professor Ibmec university in Rio de Janeiro, said the strike and its aftermath could cut GDP by at least half a percent.
"This is not an isolated event. The truckers' strike will have repercussions in just about every part of the economy," he said. Adding to the government's woes, on Monday oil workers said they planned a 3-day strike beginning Wednesday to demand cuts in the price of cooking gas.
Silvio Cascione, a senior analyst with Eurasia, said the group expected more stoppages. "Other sectors of the economy saw how fragile this government is and will go to the streets with demands," he said.