Global markets and the Euro his hard by the Italian political stalemate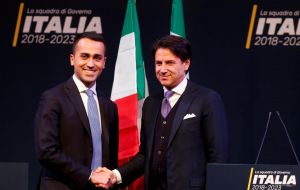 Asian equities and the euro sank Wednesday as turmoil in Italy sparked a frantic dash for safety, while investors have also been spooked by fresh worries about the China-US trade row. Global markets have been sent into a tailspin as a political crisis unfolding in Rome has thrust the stability of the Euro zone and European Union back on to the agenda.
"As the third biggest economy in the EU, as a heavily indebted one, and with Euro skeptics seemingly in the ascendancy markets have worried that the EU again faces an existential crisis," Greg McKenna, chief market strategist at AxiTrader, said.
However, he added; "I'll go out on a limb and suggest there are a bunch of experienced political operatives in Europe and some neophytes in Italy who might just have got the shock of their lives on how quickly this situation developed and we'll see some backpedalling."
Italy was plunged into crisis when President Sergio Mattarella at the weekend vetoed the nomination of a fierce euro skeptic as economy minister, leading the prime minister-designate to step down and upending a bid by the anti-establishment Five Star Movement and the far-right League to form a government.
Mattarella then named Carlo Cottarelli, a pro-austerity economist formerly with the International Monetary Fund, to lead a technocrat government, with another election likely in a few months.
The chaotic developments have spooked investors, who fear another election will essentially be seen as a referendum on the country's future in the Euro zone.
Adding to the selling pressure was a brewing crisis in Spain, where Prime Minister Mariano Rajoy faces a no-confidence vote after his party was found guilty of benefiting from illegal funds in a massive graft trial.
The euro dived against the dollar and yen Tuesday to lows not seen since mid-2017 and it extended the losses in Asian trade. Regional investors tracked big losses in Milan, Madrid and other European and US markets.
Tokyo ended the morning 1.8 percent down, Hong Kong lost 1.1 percent and Shanghai was 1.3 percent lower. Sydney gave up 0.5 percent, Singapore dived 1.7 percent and Seoul was 1.6 percent lower. Taipei, Manila and Jakarta were all sharply down. The turmoil has also sent Italy's 10-year bond yields more than 300 basis points above Germany's -- around a five-year high -- reflecting investor concerns.
But US Treasury yields have tumbled as traders flock to assets considered safe -- yields go down the more the bonds are in demand -- while the yen, a go-to unit in times of turmoil, rallied.