Japanese whale hunt slaughters 122 pregnant minke whales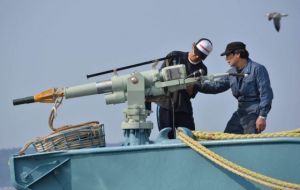 More than 120 pregnant whales were slaughtered in the latest Japanese whale hunt in Antarctica's Southern Ocean, new documents show, reigniting calls to step up efforts to stop the annual killing spree. A further 114 immature whales were killed as part of the so-called "scientific" whaling program, according to meeting papers from the International Whaling Commission's scientific committee meeting this month.
Japan insists on conducting its annual summer whale hunt - including killing in Australian whale sanctuaries - despite international condemnation. The latest figures show that of 333 minke Antarctic whales killed last summer, 181 were females. Some 122 females, or 67%, were pregnant. The hunt killed 61 immature males and 53 immature females - 114 in total.
Japan claims the whaling is for scientific research, yet also allows the sale of the whale flesh in markets and restaurants.
The documents show Japan characterized its latest killings as "biological sampling" that aims to investigate "the structure and dynamics of the Antarctic marine ecosystem". Once a school of minke whales was sighted, the Japanese identified one or two for killing, using "harpoons with a 30g penthrite grenade".
Whales were then transported to the research base vessel, Nisshin Maru, on which 12 "researchers" were on board.
Japan claims it must obtain the stomach contents of the whales "to estimate prey composition and consumption". Blubber thickness, fat weight and girth are purportedly required to study the animal's nutritional condition. Body parts and organs are weighed using electronic hanging scales and skull measurements are taken using a large calliper.
In order to estimate the age of a whale, Japan says only "lethal sampling methods" are adequate. This involves examining the extent of earwax plugs that accumulate in a whale's ears over a lifetime, which reveal its age.
The documents say Japan targeted 344 whales and killed 333. Eleven whales evaded the harpoons and escaped "into the high density sea ice".