Falklands' Loligo first season squid catch, the best in the last five years
Friday, June 1st 2018 - 08:02 UTC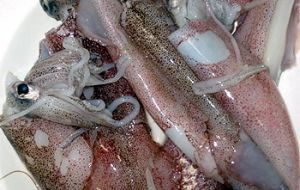 The Falkland Islands' total catch of the loligo squid, or Falklands' calamari, in the first season of 2018 was 43,085 tons, which compares very favorably to first-season catches over the last five years.
Elected member of the Legislative Assembly, MLA Teslyn Barkman, who holds the portfolio for fisheries, was responding to a question from her colleague MLA Roger Spink during this week's assembly meeting.
Rounded to the nearest 100 tons, the first season catch in 2013 was 19,900. In 2014 it was 28,100, and in 2015, 19,400: in 2016, 22,600, while in 2017 it reached 39,400.
It was noted that season lengths have been adjusted in the last few years, meaning that the seasons being compared are not identical in duration or timing.
For example, the 2018 first season lasted 64 days, whereas the 2013 first season lasted just 50 days.
However the season can still be appreciated as extremely good, especially if we compare the average Loligo catch per day. In the 2013 first season the average catch per day was 398.2 tons. CJ. By 2018, this figures had risen to 673.2 tons.
To provide context, MLA Barkman also pointed out that during the first season of 2018, more calamari was caught than during the entire years of both 2013 and 2015.
One caveat - during 2015 there was an unusual invasion of illex squid into the calamari fishing zone, which drove the figures down.
Nevertheless the statistics confirm that the 2018 first season catch was the biggest since 1995.
In terms of the impact this will have on the market price, the fact that the rise from the 2017 first season is relatively small should enable the market to deal with the extra volume. There is a complex relationship between supply and prices for Falkland calamari, involving the supply levels of competing calamari products from other fisheries, as well as some limited substitution between illex and loligo.
However, MLA Barkman has noted that the illex supply appears to be modest this year, which could offer some protection to loligo prices. (Penguin News)