Honoring Falklands' fallen begins full agenda for Macri's cabinet chief in London
Monday, June 4th 2018 - 08:00 UTC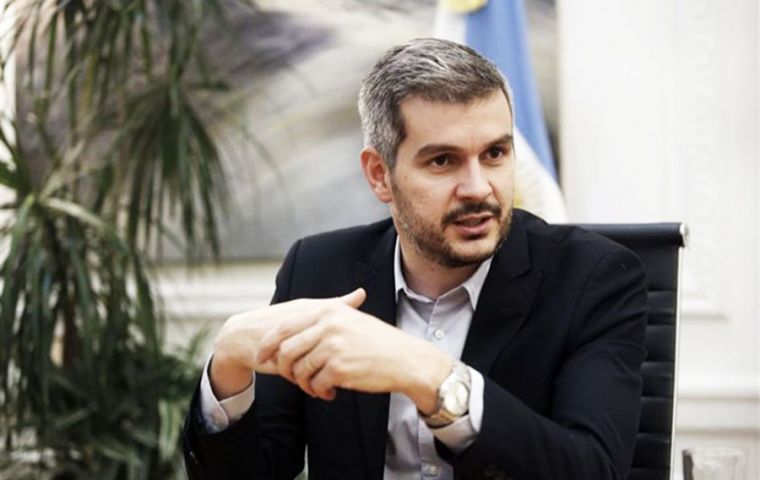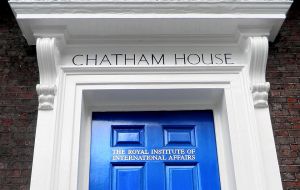 Argentine cabinet chief Marcos Peña arrived on Sunday in London for a two-day full agenda beginning Monday, with a round of ministerial meetings, media interviews, a visit to Parliament, a conference, even a visit to 10 Downing Street, but it will all take off at St. Paul's cathedral to honor the fallen in the Falkland Islands war.
Peña will attend with Argentine ambassador in London, Carlos Sersale de Cerisano, Strategic Affairs Secretary Fulvio Pompeo (Macri's foreign affairs advisor), and retired British Army Colonel Geoffrey Cardoso, who helped identify the Argentine combatants buried in the Falklands. The British delegation will include Foreign Office minister for Latin American Affairs Sir Ian Duncan and Armed Forces minister Mark Lancaster, just back from a South American visit.
The Argentine delegation will lay flower wreaths at the crypt, and former colonel Cardoso is expected to make a brief speech. It will be a ceremony as symbolic of UK/Argentine relations, as when ex president Carlos Menem became the first Argentine official to honor the British combatants, back in 1998.
From then on comes a round of meetings, Foreign Secretary Boris Johnson; Agriculture secretary Michael Grove; Chancellor Philip Hammond; Foreign trade secretary, Liam Fox. Later in the day Peña will be interviewed by a team from The Economist, and a visit to the Argentina parliamentary group in Westminster.
On Tuesday morning the cabinet chief will face The Financial Times, including the Editor in Chief and is scheduled to give a conference at Chatham House on "Political changes in Argentina: promoting an open agenda for a sustainable global economy".
This will be followed by a visit to 10 Downing Street to meet Peter Hill, who is Prime Minister Theresa May's main private secretary and in charge of G20 issues. Cabinet minister David Lidngton will wrap up 10 Downing St.
Before leaving for Heathrow to fly to New York, Peña will attend a briefing on security issues at the Foreign Office. In the flight to America he will be accompanied by Finance minister Luis Caputo.