UK Armed Forces minister visits Chile and Uruguay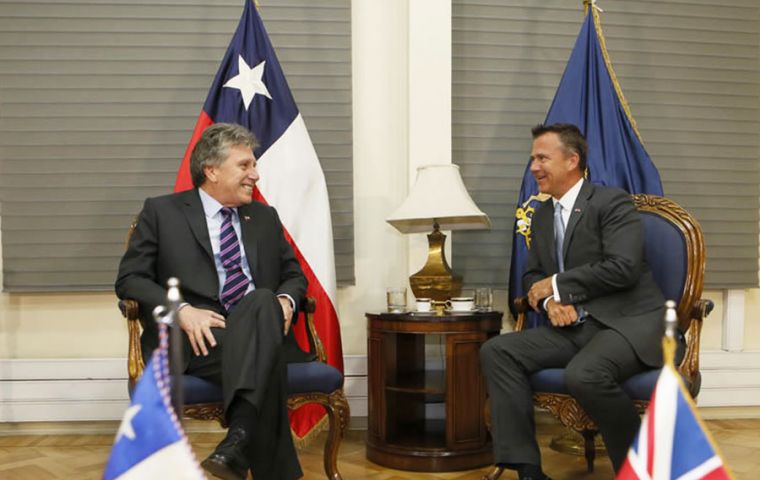 The United Kingdom Minister for the Armed Forces was in Chile and Uruguay as part of a visit to South America in the framework of increasing closer bilateral relations. The Rt Hon Mark Lancaster TD MP, made an official visit to Chile in order to further strengthen the strong defense relation between the two countries.
Minister Lancaster's program started on Monday 28 May with a protocol call on the Chilean Minister of Defense, Alberto Espina, followed by a meeting with Defense Under-secretary Cristian de la Maza. During this encounter, they discussed topics of mutual interest and explored possibilities of cooperation in different fields, such as cyber-defense.
Later in the day, he visited the Libertador Bernardo O'Higgins Military Academy where he had the opportunity to know the capacities of the academy and to visit its facilities.
In Valparaiso, Minister Lancaster visited the Chilean Navy's Headquarters and the facilities of the Navy's Hydrographic and Oceanographic Service.
On Tuesday 29 May, Minister Lancaster travelled to Valparaiso, where he made a visit to the Chilean Navy's Headquarters and to the facilities of the Navy's Hydrographic and Oceanographic Service (SHOA). On this day, he also visited the 11th Fire Brigade of Valparaíso 'George Garland'.
From Chile, Minister Lancaster travelled to Uruguay where on Wednesday he met with foreign minister Rodolfo Nin Novoa. The two officials coincided in the "harmonious development of the bilateral relation" between Uruguay and UK, with long established links plus shared values in essential principles such as support for democracy, respect for human rights, fighting international criminal organizations and protection of the environment.
According to the Uruguayan ministry, evidence of this are the numerous visits of officials both ways in recent years, a couple of missions by minister Nin Novoa to London where he held talks with his counterpart Boris Johnson, and Defense minister Jorge Menéndez visits to UK in 2016 and 2017, as well as Uruguay receiving Prince Edward, Earl of Wessex, and International trade minister, Mark Garnier in 2016 and 2017.
More specifically in defense matters Uruguay and UK have an important exchange of human resources including courses, internships and visits to military compounds. This is particularly outstanding in Antarctic cooperation, (scientific, ports, education, logistics) and in other areas of mutual interest such as United Nations peace keeping operations and prevention of sexual violence in conflicts.
In effect, during 2016/17 Uruguay had as seat at the UN Security Council as a non permanent member.