With Lula out of the presidential race, far-right candidate Bolsonaro is the clear frontrunner
Thursday, June 7th 2018 - 08:53 UTC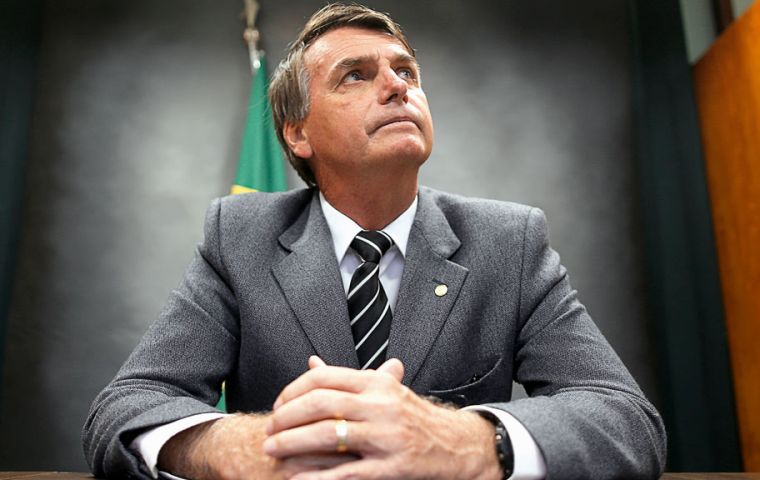 Far-right presidential candidate Jair Bolsonaro is the clear frontrunner in Brazil's election in October with up to 25% of voter support, followed by center-left populist Ciro Gomes with 12%, a new poll revealed on Tuesday.
The survey by political news website Poder360 showed the race dominated by the right and the left, four months from voting day on Oct. 7. Support for centrist candidate and former Sao Paulo Governor Geraldo Alckmin is stagnant at 7%.
Bolsonaro would also win a runoff against any rival by a margin of at least 10 percentage points, according to Poder360. A second-round runoff will happen if no candidate wins 50% of the vote.
Bolsonaro, a former army captain, says he would include generals in his cabinet and allow police to shoot criminals dead if they are fired at. He has taken an early lead with widespread support for his tough anti-crime and anti-graft stances and has a clean record among an electorate fed up with political corruption.
At a runoff Bolsonaro would defeat another anti-corruption candidate, environmentalist Marina Silva, by 35% to 25%, beat Gomes by 34% to 21%, Alckmin by 31% to 20%, and knock out leftist Fernando Haddad by 35% to 20%.
Haddad could become the candidate of the Workers Party because its founder, jailed ex-president Lula da Silva, is barred from running due to a corruption conviction.
In the absence of Lula, Gomes will likely become the standard bearer of Brazil's left. A former governor of Ceará state, Gomes has substantial support in the poor northeast region.
The poll included the former mayor of Sao Paulo, João Doria, who is running for governor of the state for Alckmin's Brazilian Social Democratic Party (PSDB). Some sectors of the party think he would be a better candidate than the former governor but the poll showed him one percentage point behind Alckmin, though statistically tied.
Former Finance Minister Henrique Meirelles, President Michel Temer's pick to stand for the ruling Brazilian Democratic Movement party (MDB), polled just 1%, as did another millionaire in the running, retail magnate Flavio Rocha.
The telephone poll surveyed 10,500 people across the country between May 25 and May 31. Poder360 said it had a margin of error of 1.8 percent up or down.