All ready for Tuesday's Trump/Kim summit: denuclearization at the heart of discussions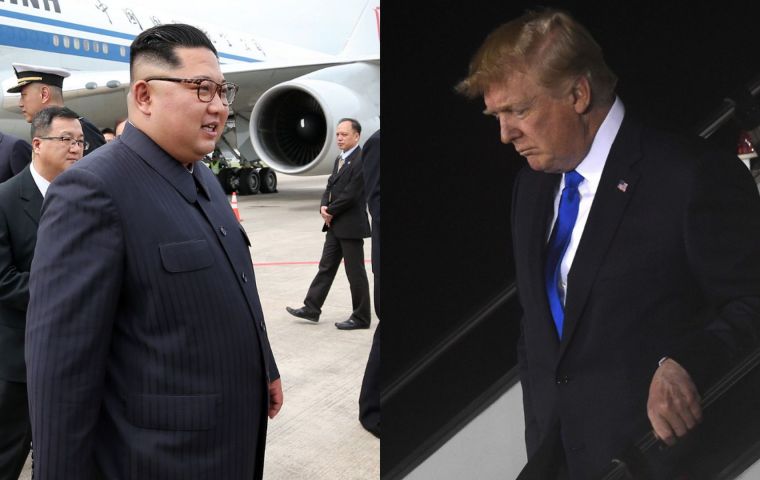 North Korea has told the United States that it's prepared to discuss denuclearization at the June 12 summit between its leader Kim Jong Un and President Donald Trump. But the reclusive regime likely has an entirely different understanding of what denuclearization entails.
For the U.S., the term means North Korea relinquishing nuclear weapons — but Pyongyang may agree to do so only if certain conditions are fulfilled, experts warn. Those include terminating America's military presence in South Korea as well as ending the U.S. regional nuclear umbrella, a security arrangement in which Washington promises in-kind retaliation on behalf of close allies if they are attacked with nuclear weapons.
The issue of U.S. troops will not come up in the summit, U.S. Secretary of Defense James Mattis said, but many believe it will remain a North Korean requirement for peace.
North Korea's concept of denuclearization, made clear through years of failed discussions with the international community, "bears no resemblance to the American definition," Evans J.R. Revere, a nonresident senior fellow at Brookings, wrote in a note.
In agreeing to meet with Trump, Kim is simply resuscitating the approach his country has pursued in previous negotiations, Revere warned. That is, Pyongyang will "launch a lengthy, complicated negotiation to get agreement on actions each party must take, and use this process to buy time for the development of the North's nuclear weapons program."
When asked at a press briefing whether Trump and Kim shared the same definition of denuclearization, State Department Spokeswoman Heather Nauert said: "That is something that the president has determined."
For the pariah state, denuclearizing the Korean Peninsula is a situation in which North Korea gives up nukes if the U.S. ends its alliances in Asia, its policy of extended deterrence and ground troops on the peninsula, Victor Cha, a Georgetown University professor and senior advisor at the Center for Strategic and International Studies said at a Washington event.
Rather than bandy the term about, negotiators in Trump's administration should seek to obtain a commitment in writing that North Korea will abandon all nuclear weapons and existing nuclear programs, Cha continued.
"That is a different phrasing from this very broad denuclearization of the Korean Peninsula", he said.