United States abandons UN Human Rights Council, "an organization not worthy of its name"
Wednesday, June 20th 2018 - 07:25 UTC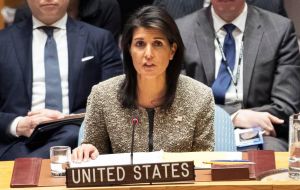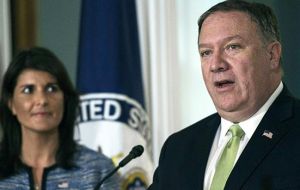 The United States is leaving the United Nations' Human Rights Council, US envoy to the UN Nikki Haley announced on Tuesday, calling it "an organization that is not worthy of its name", and marking the latest withdrawal by the Trump administration from an international institution.
Ms Haley said the US had given the human rights body "opportunity after opportunity" to make changes.
She lambasted the council for "its chronic bias against Israel" and lamented the fact that its membership includes accused human rights abusers such as China, Cuba, Venezuela and the Democratic Republic of Congo.
"We take this step because our commitment does not allow us to remain a part of a hypocritical and self-serving organization that makes a mockery of human rights," Ms Haley said.
Secretary of State Mike Pompeo, appearing alongside Ms Haley at the State Department, said there was no doubt that the council once had a "noble vision".
"But today we need to be honest," Mr Pompeo said. "The Human Rights Council is a poor defender of human rights."
The announcement came just a day after the UN human rights chief, Zeid Ra'ad al-Hussein, denounced the Trump administration for separating migrant children from their parents.
But Ms Haley, cited longstanding US complaints that the 47-member council is biased against Israel. She had been threatening the pullout since last year unless the council made changes advocated by the US
"Regrettably, it is now clear that our call for reform was not heeded," Ms Haley said.
Still, she suggested the decision need not be permanent, adding that if the council did adopt reforms, "we would be happy to rejoin it."
She said the withdrawal notwithstanding, the US would continue to defend human rights at the UN.
The move extends a broader Trump administration pattern of stepping back from international agreements and forums under the president's "America First" policy.
Although numerous officials have said repeatedly that "America First does not mean America Alone," the administration has retreated from multiple multilateral accords and consensuses since it took office.
Human rights groups have condemned the pullout, saying it will "make it more difficult to advance human rights priorities and aid victims of abuse around the world".
Likewise many people on social media have drawn a comparison to the President's disturbing immigration policy, which sees young children separated from their parents.
The United Stated refused to join the body when it was created in 2006, when George W. Bush was in the White House and his ambassador to the UN was John Bolton, Trump's current hawkish and UN-skeptic national security advisor.
It was only after Barack Obama came to power that Washington joined the council in 2009. But since Trump took office, the United States has quit the UN cultural agency UNESCO, cut UN funding and announced plans to quit the UN-backed Paris climate agreement.