Falklands and the Brexit impact outlined in London meetings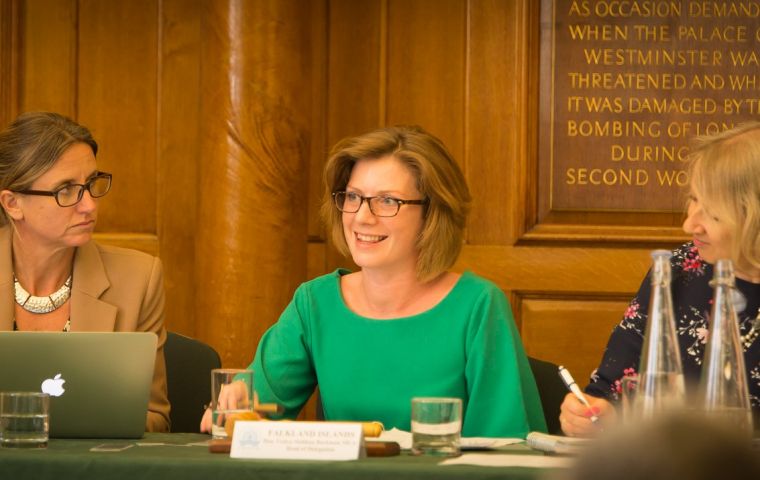 A Falkland Islands delegation recently travelled to London to attend the Joint Ministerial Council on European Negotiations, which basically is dealing with Brexit negotiations and its impact for Overseas Territories. The delegation was made up of MLA Teslyn Barkman, together with Senior Policy Advisor Richard Hyslop and were joined by Falklands London Representative Sukey Cameron
The group was engaged in a number of interviews throughout the week on the topic of Brexit, and meetings included those with the Department for Exiting the EU, FCO Directors and deputies, Lords, Ministers, Journalists, and fellow delegations of the UK Overseas Territories.
Speaking to Penguin News, MLA Barkman said that, "aside from the esteemed Ministers, civil servants and Lords who supported and acknowledged our cause at the All Party Parliamentary Group and the Joint Ministerial Council (JMC), we met with a friendly face and some new faces.
"Our first meeting was with former Governor Colin Roberts who now works in the Cabinet Office, we also met with the Chair of the International Trade Committee, Angus MacNeil MP, FCO Director General for EU Exit Lindsay Croisdale-Appleby, as well as Lord Jay of Ewelme."
The Falklands lawmaker emphasized "e have a significant tale to tell when it comes to Brexit. A bad or 'no deal' risks a massive slice of (the Islands) GDP." Ms Barkman said it was also a risk to, "large employment opportunities from meat and fishery exports here and in Spain and all the economic and social security those industries bring."
She added, "there is also risk of an absence of political support for our human right to self-determination, as the UK withdraws from an agreement called the Lisbon Treaty. Lastly, but by no means insignificantly, we enjoy economic and environmental funding which was assured at the JMC to be available post-Brexit although the structure and eligibility is still being waded through".
MLA Barkman insisted that all added up to the Falklands "being the second most affected after Gibraltar and in terms of trade, the most affected territory and a good reason for some better communication around these issues."
"It was then very reassuring to hear that our hard work and persistence to highlight the risk of 'no deal' is paying off. We secured some fantastic meetings and although we are all still in unknown territory it is reassuring to be at the table offering those details and new perspectives from a self-sufficient territory that wishes to remain so.
"We have friends in London who are willing to listen to how we and the whole UK family navigates through this successfully."
Another theme of the week following on from the recent beneficial ownership instruction was the concept of 'constitutional overreach' she said.
A few weeks ago the UK Parliament decided they would instruct all territories to maintain public registers of beneficial owners of companies registered there.
"On the surface it would look to be a good decision however, the problem is the way this was handled. UK Parliament took a unilateral decision to impose instruction on OTs, some of whom survive on confidence.
"Now, we are not in the position that it will affect us but the principle is that a constitution should protect from non-emergency decisions like these that affect domestic matters, and let's not even get started on poor Ascension's fishery being closed for them.
MLA Barkman concluded: "There was understandably a unanimous rally amongst the territories to take the issue to the UK Government to decide: Where is that line? What is ours? What is in your control, and is that the way it should be? We are proud not to be colonies and how far that guiding arm stretches from the UK does need to be clear." (Penguin News).