Unequivocal EU support for Dublin: no Brexit deal without agreement on the Irish border
Friday, June 22nd 2018 - 08:52 UTC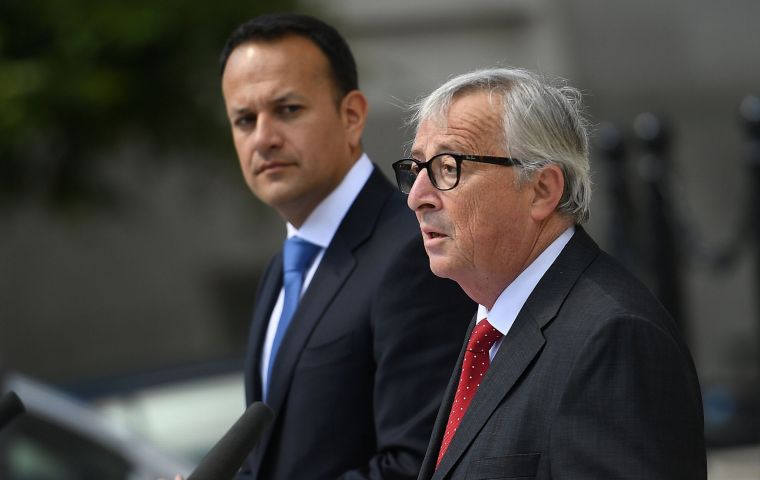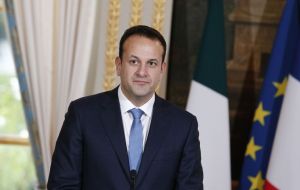 European Commission president Jean-Claude Juncker has warned the UK there will be no Brexit deal without agreement on the Irish border. On a visit to Dublin, Mr Juncker said fellow EU member states would not let Ireland be "isolated" on the impasse, insisting the demand for a resolution was a Europe-wide demand.
Amid an ongoing stand-off over how to maintain a free-flowing border post-Brexit, Mr Juncker assured Taoiseach Leo Varadkar that the EU would not waver on what he made clear was a pivotal issue.
"This is not a bilateral question between Ireland and the United Kingdom – this is an issue between the UK and the European Union," he said. "We want to make it clear again and again that Ireland is not alone. We have Ireland backed by 26 member states and the commission – this will not change.
"I am strongly against any temptation to isolate Ireland and not to conclude the deal on Ireland. Ireland has to be part of the deal."
Coming a week ahead of a key European Council meeting of leaders in Brussels, the visit to Dublin of Mr Juncker and the EU's chief Brexit negotiator Michel Barnier is a clear demonstration of the EU's solidarity with Ireland's position.
This week the EU warned that more work was needed on how to deal with the 300-mile border between Northern Ireland and the Republic, the UK's only land frontier with a European state, and protect frictionless movement after the withdrawal.
Both sides in the negotiations have agreed to include a so-called "backstop" option in any Brexit treaty, which would commit the UK to align with an EU regulatory framework in the absence of a wider trade deal.
But the shape of that fall-back remains a sticking point, with the EU rejecting a UK contention that it should only be temporary, even if a broader agreement fails to materialize.
After talks with Mr Juncker in Government Buildings in Dublin, Mr Varadkar said there was an urgent need to "intensify" negotiations to find an agreement on the shape of the border backstop.
"A withdrawal agreement without a backstop is of no use whatsoever," he said.
He added: "Let me be blunt, there isn't much time left if we are to conclude an agreement and have it operational by the time the United Kingdom leaves the European Union next March."