Exxon-Mobil made its eighth major oil discovery offshore Guyana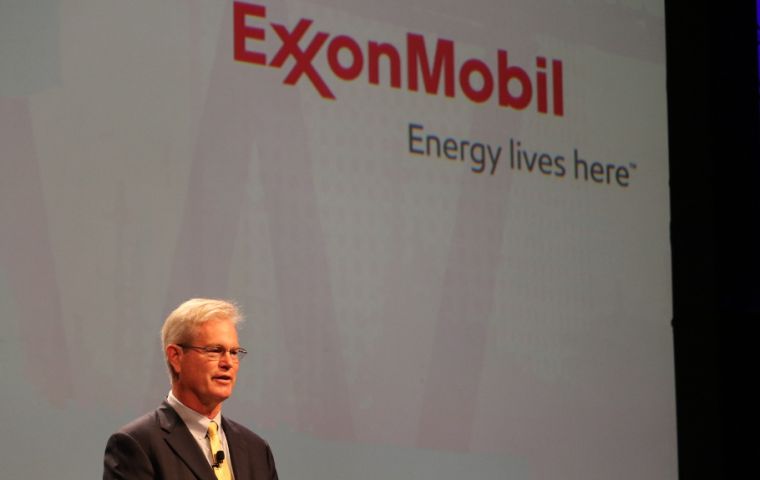 ExxonMobil made its eighth oil discovery offshore Guyana at the Longtail-1 well in the Stabroek Block on June 20. The company encountered 256 feet of oil-bearing sandstone. The well was drilled to 18,057 feet depth in 6,365 feet of water.
"The Longtail discovery is in close proximity to the Turbot discovery southeast of the Liza field," Steve Greenlee, ExxonMobil Exploration Company president, said in a release. "Longtail drilling results are under evaluation. However, the combined estimated recoverable resources of Turbot and Longtail will exceed 500 million barrels of oil equivalent (MMboe) and will contribute to the evaluation of development options in this eastern portion of the block."
ExxonMobil plans on adding a second exploration vessel offshore Guyana in addition to the Stena Carron drillship, which will bring the total number of drill-ships on the Starbroek Block to three.
"This latest discovery reaffirms the Stabroek block's excellent exploration potential following a dry hole on the Soribum prospect in April," Wood Mackenzie said.
Wood Mackenzie said momentum continues to build in Guyana and with over 500 MMboe in recoverable resources, they estimate a 120,000 barrels per day FPSO would most likely be used to develop the fields together.
ExxonMobil's partners in the Stabroek Block (Hess: 30%, Nexen: 25%, and wholly owned subsidiary of CNOOC) previously estimated the block's recoverable resources to be in the excess of 3.2 MMboe. However, following January's Ranger discovery, the February Pacora discovery, and Longtail, we estimate recoverable reserves will likely be over 4 billion barrels of oil equivalent, with major additional upside potential, said Wood Mackenzie.
Wood Mackenzie goes on to say that the play is "increasingly transformational" for the company, adding that the scale, competitive breakevens of US$ 35/bbl (at 10 percent discount) and exploration running room make it one of the ExxonMobil's five growth pillars, second only to Permian.