Heathrow airport third runway approved in Parliament, but hurdles remain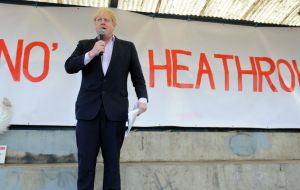 British lawmakers on Monday approved plans to expand Heathrow Airport near London after years of study and debate, but the construction of a third runway still faces significant hurdles.
Europe's busiest airport, Heathrow operates at close to capacity, and supporters of the expansion have said that adding a third runway would keep Britain from losing ground to airline hubs in Continental Europe. But for critics, the plans are synonymous with bulldozed homes, more aircraft noise and poorer air quality for those living under congested flight paths west of London.
Those arguments have stalled the project for years.
The government, which wants to proceed with the expansion, won Monday's 415-to-119 vote partly because of the support of some opposition Labour Party lawmakers, who broke ranks with their leadership.
But Monday's decision is far from the final green light for the project, which is expected to cost about US$18.5 billion. Legal challenges are likely, and planning consultations will allow opponents to raise detailed objections. Some senior Labour politicians have threatened to scrap the expansion plans if their party gains power.
One politician likely to suffer from the political fallout of the vote is Foreign Secretary Boris Johnson, a former London mayor who once threatened to lie down in front of the bulldozers to prevent construction at Heathrow.
The pressure on Mr. Johnson to resign his cabinet post increased last week after another official, Greg Hands, quit as trade minister to vote against the Heathrow expansion.
By contrast, Boris Johnson absented himself from Monday's vote by traveling to Afghanistan, though for hours even cabinet colleagues were unsure of his whereabouts. A newspaper, The Evening Standard, quoted from a letter written by Mr. Johnson to politicians in his constituency in which he promised to continue opposing the runway but argued that "my resignation would have achieved absolutely nothing."
Even some political allies seemed unimpressed. "He'll need to look his constituents in the eye and explain where he was on the night of the Heathrow vote," Stephen Crabb, a Conservative lawmaker, told the BBC.
At one point, the Conservative Party opposed any expansion of Heathrow, and Prime Minister Theresa May once argued against it. While he was London's mayor, Mr. Johnson suggested building a new airport in the Thames Estuary east of London — nicknamed "Boris Island" — and using the land around Heathrow for housing.
The choice ultimately came down to expanding Heathrow or Gatwick Airport, which is south of London and significantly farther from the city.
Heathrow's location has made it a particularly thorny issue for both main political parties: Its busy flight paths cross many residential districts, including the parliamentary constituencies of influential lawmakers.
But its evolution into one of the world's busiest airports could not have been predicted in 1930, when an aircraft maker created a single grass runway on a 150-acre plot for assembly and testing. The land was requisitioned by the military during World War II but handed over as a civil airport in 1946. In the decades since then, London has transformed.
Home to more than 80 airlines, Heathrow connects the British capital to over 200 destinations around the world. In 2017, the airport handled more than 78 million passengers on more than 474,000 flights, as well as nearly 1.9 million tons of cargo.
But while Heathrow's traffic has grown, the airport's rivals have taken advantage of their greater capacity: Schiphol in Amsterdam has six runways, and Charles de Gaulle in Paris and the Frankfurt airport each have four.
Other British airports, including Stansted, northeast of the city, have taken some of the strain in recent years, but all five of London's airports could be operating at capacity by 2034, according to some estimates.