President Vizcarra claims corruption costs Peru US$ 3 billion annually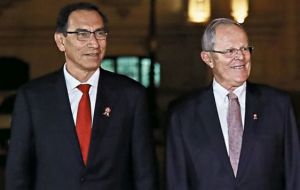 President Martin Vizcarra said that the Peruvian government will enforce a "zero tolerance" policy against corruption amid a spreading bribery scandal that has involved at least three former presidents.
Speaking at a press conference, Vizcarra said corruption, which currently costs Peru some 3 billion U.S. dollars a year, will be fought "wherever it comes from, whatever the cost will be."
Vizcarra, Peru's former vice president, took office in March after his predecessor Pedro Pablo Kuczynski stepped down amid corruption allegations.
Vizcarra said he has asked and encouraged provincial authorities to support and join the anti-graft move. Peru announced recently that anti-corruption teams have convicted thousands of officials at different levels and sectors.
Prosecutors have opened an investigation into allegations that three former presidents, Alejandro Toledo, Alan Garcia and Ollanta Humala, took money from Brazilian construction giant Odebrecht.
Kuczynski is also under investigation for allegedly receiving money from Odebrecht through one of his consulting firms.