UK government to publish details of the fishing industry after Brexit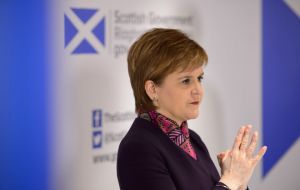 The UK government is to publish details of how it wants to manage the fishing industry after Brexit. Ministers promised the UK would "take back control of our waters" when it leaves the EU's Common Fisheries Policy.
Under the existing policy, limits on different species are set centrally and quotas are assigned to each country. The government said UK fishermen "received a poor deal that is based on fishing patterns from the 1970s".
The Scottish government said it had not been properly consulted and had "significant concerns" about the proposals.
There were protests earlier this year when it was revealed that the UK would continue to be bound by the Common Fisheries Policy during the post-Brexit transition period which is due to run until the end of 2020.
Now, ministers are to publish a White Paper later setting out their vision for the UK as an "independent coastal state" from 2021 onwards. It will be followed by a Fisheries Bill which will include the ability to set quotas.
The government said it was "clear" that market access for fish exports - which has yet to be negotiated between the UK and the EU - should be treated separately from the question of access to each other's waters. The EU has previously suggested the two issues should be tied together.
The government said its proposals would regenerate coastal communities and move towards a "fairer share of fishing opportunities", saying other EU members currently land eight times more fish in UK waters than the UK does in theirs.
It said it would explore a "fairer allocation" based on the distribution of fish stocks rather than historical data, as well as ending the "wasteful discarding of fish" and only allowing boats that meet UK sustainability standards to fish in its waters.
Fisheries management is a devolved matter, and the UK government said it would work with the devolved administrations to develop a new UK framework which it said would "maximize their power to manage their fisheries while maintaining the overall coherence of the UK's approach".
But Scotland's Fisheries Secretary Fergus Ewing said the UK government had "failed to substantively engage" with the Scottish government in drawing up its plans.
He added: "The paper completely ignores the critical importance of ongoing access to labour for the seafood processing sector and, whilst acknowledging seafood trade as 'vital', provides no detail whatsoever on how seafood exports will be protected from potentially damaging trade barriers."
Fishing featured prominently in the 2016 EU referendum campaign, with Leave campaigners saying the current rules encouraged overfishing and mismanaged stocks - and it led to one of the campaign's most memorable moments as Nigel Farage and Bob Geldof traded insults on boats during a protest on the Thames.