Brexit and the Falkland Islands: Potentially catastrophic?
Friday, July 6th 2018 - 08:43 UTC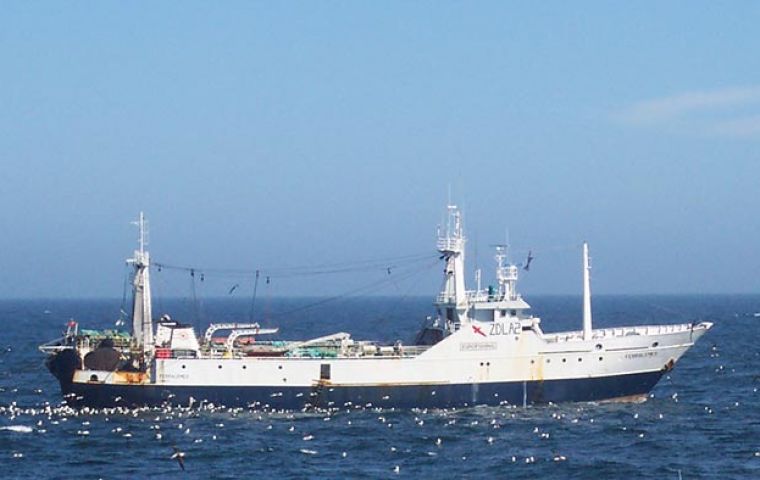 Brexit could be "potentially catastrophic," for the Falklands according to a recent UK newspaper article. And by all accounts it could have a serious impact if heavy tariffs were applied to goods exported from the Islands into the EU. But just how bad could it be?
This week Penguin News Editor in Chief, Lisa Watson spoke to the public and private sector about the issue, and fishing company owner Stuart Wallace began by explaining that while he felt "catastrophic" was an exaggeration, "we do think they could be very serious and will present financial and operating challenges which will be significant…"
The Fishing industry
But what kind of challenges we asked? Is it about tariffs, as there are none for their product currently. He explained: "The central issue is what the EU access environment will be; will import tariffs be applied?
"Non EU product entering the EU market normally attracts a tariff of anything between 6% and 16% so you can see that would be serious.
"Additionally," explained Mr. Wallace," Falklands' registered vessels which would pay such tariffs might be competing in the market with non Falklands registered vessels which do not. Operationally there are questions about registration of vessels and Officer qualifications – currently there is a system of mutual recognition of professional qualifications which if no longer available would be extremely disruptive."
Asked about the potential indirect impact on Fishing Quota Fees (a major contributor to public funds) he said: "The fees are related to the value of the catch so to that extent there is potential for an impact over time."
Mr. Wallace has a positive attitude though, saying, "but we are determined to work with the Falkland Islands Government and our international partners to overcome any which arise and continue to supply Falkland Islands seafood products to our global markets."
Another fishing company executive, manager of Consolidated Fisheries Ltd Janet Robertson also felt uncomfortable with the suggestion Brexit could be "catastrophic."
She said: "ultimately that is a value-laden word designed to catch attention - but the implications cannot be taken lightly.
If you consider that, in tonnage terms, more than 90% of Falklands fish ends up in Europe, and that if tariffs make fisheries product less attractive to European consumers because of cost, then the Falklands could see real decreases in tax revenues and development funds generated from the fishing industry."
CFL is a different story, she said, "as Europe is not a market for us so Brexit will not directly impact on our sales. However, in the 'all for one and one for all' world that we live in these days, it would bound to have an effect on us in the long term, particularly if we are relying on contributions from other fishing companies to support development in the Islands."
The Meat Industry
But what about meat exports. Penguin News spoke to Michael Ledwith who heads the Falkland Islands Meat Company (FIMCo)
He explained that FIMCo exports over 80% of its meat production to the UK and the EU, the rest is sold locally and items such as the intestines and lamb skins are sold outside of the EU. Currently no FIMCo export products incur any tariffs.
Of the meat exports 65% are sold into the UK, the remainder to countries such as France, Spain, Belgium, Denmark, and Greece: "Should Brexit result in tariffs being imposed by the EU on British products, it is likely that Falklands products would also have tariffs imposed on them. Due to the remoteness of the FI from our main markets, FIMCo pays a high cost for shipping. Typically, we pay three to four times the amount in shipping costs than our main competition, New Zealand lamb. Any additional cost imposed in the form of tariffs will make FIMCo less competitive in these markets."
He emphasized: "Whilst I do not know what tariff structure would be imposed by the EU countries, even a 10% tariff would exclude FIMCo from the EU markets."
Mr Ledwith added though: "Our saving grace, is that, as we have so little volume in World terms to actually sell, FIMCo could market all its export volume to the UK. However, we would wish to be able to access different markets, as higher prices can be obtained for certain products in the EU countries at certain times than can be obtained in the UK. It limits our potential sales revenue and of course, this has a knock on effect to what FIMCo can pay to its livestock suppliers."
He said at this point in time, FIMCo was hoping to restore confidence in the Red Meat Industry in the Falklands and encourage farmers to supply more sheep and cattle in the coming years, "curtailing our market access is counterproductive."
He also assured: "Catastrophic is a very heavy word to use and I do not think it is the correct outlook for the FI Meat Industry, as the UK will remain our largest market.
"The Falkland Islands may be able to negotiate outside of the UK with the EU but I do not know if this would be the case."
He said the worst case scenario was that the EU imposed a tariff that made Falklands meat too expensive to be competitive in EU countries, "then we would sell exclusively into the UK and whilst this may put a slight dent in the total sales revenue initially, FIMCo is already seeing ways in which this could be an opportunity to concentrate on high end, niche markets, in the UK for our lamb, which certainly fits this description and to open up other non EU markets, for our mutton, whilst still supplying current customers in the UK."
He concluded: "I am informed that no changes will be made on tariffs before December 2020 and FIMCo has started using this time in exploring possibilities that will render any imposition of tariffs (should it actually come to that) something that the Falklands Meat Industry can take in its stride and potentially benefit from. It is a huge world out there, we just have to access it."
The Wool Industry
Penguin News asked Managing Director of Falkland Woolgrowers Ltd (an agent for the sale of Falklands wool) Robert Hall, what Brexit potentially meant for the Falklands wool industry. He assured; "None of our Falkland wool customers currently anticipate problems that would prevent or penalize their use of Falklands wool as a result of BREXIT. To date raw wool is not subject to tariffs or other barriers to trade.
Much of the wool textiles trade in Europe requires the import of half-bred, fine and super fine wools from the southern hemisphere, as these wools are rarely produced in Europe therefore such trade is generally expected to continue."
The impact of tariffs
In a paper created by the Policy Unit they outline the impact tariffs would have. It notes that it is, "vitally important that current tariff and quota free access to EU markets is retained," and says "anything less would have a detrimental impact on the economy and government revenues, damaging the government's ability to deliver essential public services and to invest in critical infrastructure for the future growth of the Falkland Islands."
It goes on: If tariffs are imposed it is assumed that:
i. the Falkland Islands would lose market presence in Spain for fishery products where we are not among the top 10 exporters;
ii. the Falkland Islands would lose market presence in all other EU member states other than Spain; and
iii. exports of fishery products where the Falkland Islands is among the top 10 exporters (including loligo calamari) would decrease.
iv. this would result in potential losses of between £6 and £9 million for the Falklands fishing industry.
Meat products would be subject to the WTO Agreement on Agriculture and could be subject to a tariff of 12.8%, plus a fixed amount ranging from Euros 902 to Euros 3,118 per ton, depending on the cut. This would lead to the loss of market presence in the EU for the Falkland Islands.
Meat and fishery products that enter the EU before exiting to enter another non-EU market would then be subject to double tariffs. Additionally, the loss of this exemption would be detrimental to the fishing industry, even if tariffs and quotas remain as they are.
So what about developing new markets?
According to the Policy Unit developing new, non-EU export markets for fishery products will be difficult outside of free trade agreements that allow similar access to what is currently enjoyed within the EU. This is particularly the case in the Asian markets where demand is highest but competition is strong and both political and tariff barriers exist.
In a situation where the UK is unable to achieve a 'deal' with the EU and leaves in March 2019 with no transition or implementation period, the Falkland Islands fishing sector could require adaptation assistance from the UK, particularly in the short to medium term.
Talking to the UK government
Senior Policy Adviser Richard Hyslop told Penguin News: "At this stage we do not know the outcome of the UK's Brexit negotiations and how this will impact the Falkland Islands. We are actively engaged with the UK Government and we have a constructive working relationship." He said it was important that they keep up the pressure, "to ensure that our issues and concerns are at the forefront of the UK
Government's thinking when it comes to Brexit.
"Both Teslyn Barkman MLA and Roger Edwards MLA have both been proactively engaged with senior officials, Ministers, and other UK and EU politicians to ensure that the issues and concerns of the Falkland Islands fishing and agricultural sectors are clearly understood."
MLA Teslyn Barkman also emphasized it was FIG's responsibility to highlight, "the ultimate worst case of Brexit so the UK Government can be aware of the details necessary to absorb before leaving the EU.
She said: "It is this government's belief that these messages are understood, and will continue to be, by the UK Government and so the threat is lessoned in reality."
Lisa Watson - Stanley
The Falkland Islands have enjoyed a special partnership with the EU since the UK entered in 1973. This partnership was formalized in 2000, with the introduction of the Overseas Association decision (OAD) which seeks to promote economic relations with the overseas countries and territories.
As a result the Falklands benefits from tariff ad quota free access for fishery and meat products exported to the EU. In 2017 the EU was the destination for 94% of the Falkland Islands exports of fishery products by weight.
Fishery products caught and exported to the EU by the Falklands fishing industry differ from those caught by the UK industry and do not compete.
Meat production is a key source of income for farmers in the Falklands. Most goes to the UK but the EU27 is the destination for 33% of the meat produced in the Islands.
Loligo squid is the Falklands main fishery export to the EU accounting for 89% of FI total exports to the EU in 2017. In 2017 all loligo squid imported to Spain came from the Falklands