France beats Uruguay 2-0 and qualifies for its sixth World Cup semifinal
Saturday, July 7th 2018 - 05:50 UTC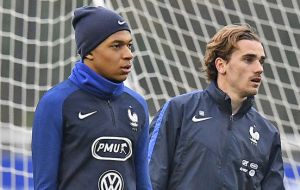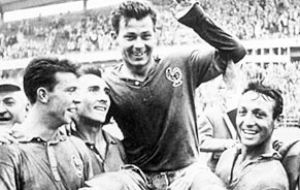 France is only one step away from reaching the fourth World Cup final of its rich football history. Didier Deschamps' team beat Uruguay 2-0 and now has qualified for its sixth World Cup semifinal.
France reached that stage of the event in 1958, 1982, 1986, 1998, 2006 and now in 2018. Only three countries have done better in history: Germany (12), Brazil (eight) and Italy (seven).
In the knock-out stage, France has scored, in aggregate, six goals. It has never achieved this kind of goal-scoring performance since 1986, the year the round of 16 was established as an alternative to the old second group stage. The French have in Kylian Mbappé and Antoine Griezmann their most resolute players. They both have already scored three goals in this World Cup. Only one Frenchman has done better in a single edition of a World Cup: Just Fontaine and his 13 goals in 1958.
After beating Uruguay, Deschamps said his side had "again raised our level" after the 4-3 win over Argentina in the last 16.
"I have a good team that still has plenty of room for improvement," Deschamps told BeIN Sports. "You can see our lack of experience sometimes, but we have so many qualities too.
"In any case, it definitely won't be a failed World Cup now, and we'll wait to find out our opponents and see what happens."
France, the 1998 winners, started slowly in Russia but have now slipped into gear, with a sharp attack led by Griezmann and teenager Mbappe buttressed by a powerful midfield marshaled by Paul Pogba and N'Golo Kante.
Kante is the invisible midfielder who according to his teammates is everywhere.
"Sometimes it's like playing 12 players," said Olivier Giroud, Kante's teammate in the French side and at Stamford Bridge for Chelsea.
Pogba himself said Kante has "15 lungs" and Lucas Hernandez says of his teammate "Kante is as if he just emerges out of the ground".
France coach Didier Deschamps says Kante is happiest when he is not in the limelight -- he was tasked with nullifying the threat from Lionel Messi in the victory over Argentina, as all the headlines went to Mbappe.
As for Pogba, the Manchester United midfielder has demonstrated a poise almost unknown in him until now.
Captain and goalkeeper Hugo Lloris agrees. "I think he is maturing, he's growing," he said. "He has started to grow in the changing room also and that's a good thing. He is a leader."
In fact, Pogba has ceased to be the more attacking player he was at Juventus where he had "workers" behind him and now with the French national team, he has understood his more defensive role. If Pogba is clicking in, the whole French machinery is well-oiled.
Now "les blues" move on to the semis searching in part for some redemption after their loss as host in the final of the last Euro against Portugal.