Argentina withdraws reward offer to help find ARA San Juan
Thursday, July 12th 2018 - 02:49 UTC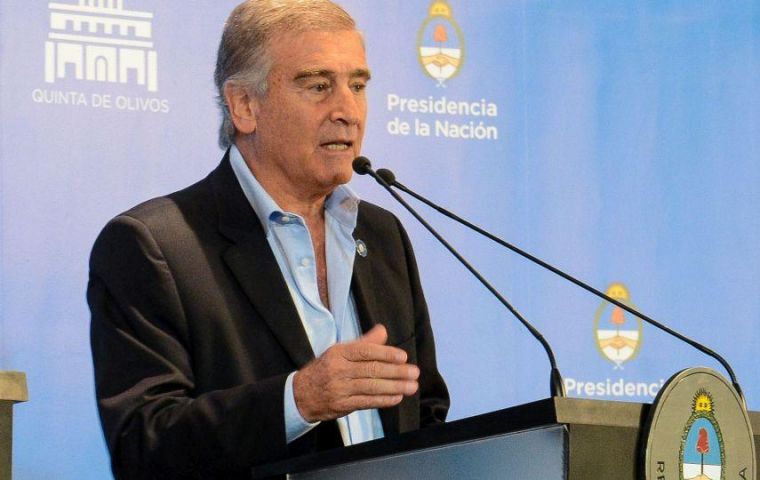 The Argentine Government has formalised the withdrawal of the reward offered to anyone who could find or provide meaningful information about the whereabouts of the submarine ARA San Juan, which went missing in the Atlantic Ocean on November 15, 2017.
A decree published on Wednesday in the Official Gazette explains that the 98-million-peso allurement announced last February to encourage the search "has failed to fulfill its ultimate objective."
The document also underlined that in view of "... the time elapsed without achieving the desired success taken into account at the time of issuance of the aforementioned measure, it is necessary to revoke the aforementioned resolution."
The offer has turned out to be "unsuccessful" to motivate the participation of private sector companies -national and international- in the operation, since, currently, the bidding process that was opened to hire a company properly equipped to handle the task has not yielded results.
Relatives of the 44 missing submariners who have been camping for two weeks in front of Casa Rosada, in Plaza de Mayo, to protest the unspeediness with which the Mauricio Macri administration is dealing with the case.
Defense Minister Oscar Aguad briefed the families about the withdrawal of the reward during a meeting in which he told them that a new tender would be held to choose a company in order for the search to continue. Aguad also explained that the Navy will now handle all procedures.
The ARA San Juan was traveling from Ushuaia to the Mar del Plata naval base in the province of Buenos Aires at the time of its disappearance. At first, ships from Russia, the United States and the United Kingdom took part in the search but eight months on only one Argentine vessel remains active in the operation. According to the relatives, it is not adequately equipped for the task.