Venezuela's oil crisis gets worse: Production keeps falling
Saturday, July 14th 2018 - 07:48 UTC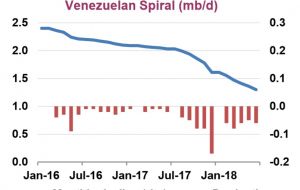 Venezuela's oil production plunged by another 47,500 barrels per day (bpd) in June, compared to a month earlier. An exodus of workers and field shut downs were reported for the month, pointing to a grim near-term future that could see total production dip below 1 million barrels per day (mb/d) by the end of the year.
According to OPEC's secondary sources, Venezuela's output fell to 1.34 mb/d in June, which, aside from a brief interruption of output due to a strike in 2002-2003, puts production at its lowest point in nearly seven decades.
The problems plaguing Venezuela's oil industry are well-publicized, but the situation continued to deteriorate in June. Two officials from state-owned PDVSA told Argus that workers are fleeing operations. "More production wells are being shut down, the skilled oilfield labor force declined in all upstream divisions by at least a combined 1,000 workers in June, and scheduled maintenance continues to be postponed," a PDVSA official from the western division said.
A separate official from the eastern division told Argus that production continued to fall in the first 11 days of July as more rigs were scrapped and more wells were shut down. PDVSA is "dying operationally," the official said.
You wouldn't know that if you went by government statistics, however. While OPEC's secondary sources estimated average output at 1.34 mb/d in June, the Venezuelan government reported production figures at 1.531 mb/d, flat from May levels. Those figures defy belief and are not credible, but PDVSA's leader, Manuel Quevedo, is "cooking the official data sent to OPEC to hide the truth about [PDVSA] from president Maduro and from the public," an official from the energy ministry told Argus.
Venezuela's production is now down nearly 800,000 bpd from a year ago and falling.
By Nick Cunningham for OilPrice.com