Lula the only hope for millions of Brazilians, says ex president Dilma Rousseff
Monday, July 16th 2018 - 08:20 UTC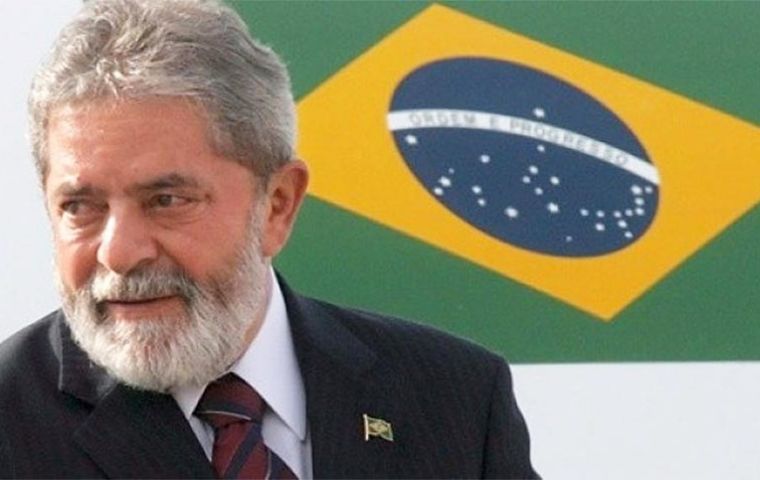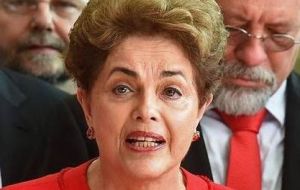 Brazil's ex-President Lula da Silva, who is serving a 12-year-one-month jail term for alleged corruption, represents "hope" for millions of Brazilians, former leader Dilma Rousseff said on Sunday. Rousseff succeeded Lula as president and belongs to the same left-leaning Workers' Party (PT), which named Lula its presidential candidate in upcoming Oct. 7 elections, despite his legal woes.
"Lula is our hope and our opponents think that we are going to withdraw his name from the electoral process. We are not going to do it," she said.
Rousseff spoke to reporters on the sidelines of the Sao Paulo Forum meeting, which kicked off on Sunday in Havana, Cuba.
"Lula can make Brazil grow again, reduce the brutal inequalities that exist in my country and, at the same time, renew international relations that aren't subject to the United States and the great powers," said Rousseff.
She attended the Sao Paulo Forum to seek the solidarity of regional progressive parties and movements.
Lula was the victim of political persecution by right-wing rivals who wanted him out of the race, said Rousseff, adding he was convicted "without evidence."
"Lula has been imprisoned so that he cannot be a presidential candidate, so that he will not be elected president because, even as a prisoner, he has more popular support with each passing day," Rousseff said.
Polls have consistently shown Lula leads the field of potential candidates with more than 30% of the votes.
Though he has lost numerous appeals, his appeals process continues through the courts.
However, to run in October, he must be acquitted before Aug. 15, the deadline for registering as a candidate.
The left in Latin America and the Caribbean faces a "difficult situation," said Rousseff, calling for regional integration to better meet existing challenges.