Tierra del Fuego infighting over the Malvinas Question Observatory
Tuesday, July 17th 2018 - 11:26 UTC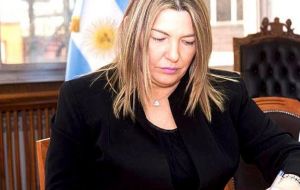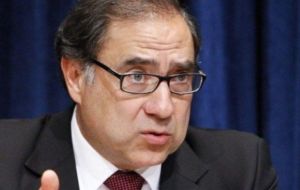 Last week's meeting in Buenos Aires of the Malvinas Question Observatory from the province of Tierra del Fuego with the Malvinas Department at the Argentine foreign ministry has not been without consequences.
In effect according to reports in the Buenos Aires media, Tierra del Fuego province governor Rosana Bertone has been questioned and pointed out for having repeatedly stated that the ministry has not informed her about ongoing discussions with London referred to the South Atlantic and the Falkland Islands. Likewise for creating a special State Secretariat at provincial level to address Malvinas issues, under ex ambassador Jorge Argüello, which is considered unconstitutional since Argentine foreign affairs are the responsibility of the federal government.
Members of the Malvinas question observatory, made up of different organizations, met with the foreign ministry team headed by Teresa Kralikas, who is Under Secretary for Malvinas, and according to the observatory report, "although without coincidences, a significant and mature agenda of dialogue and work" was established.
This undoubtedly left governor Bertone with no support for her exclusion claims and criticisms of foreign minister Jorge Faurie regarding dialogue with the UK. In the meantime the governor had gone ahead and created the special Malvinas Secretariat arguing that a ratified constitutional amendment gave Tierra del Fuego province jurisdiction over the South Atlantic islands, Falklands, South Georgia and South Sandwich. And last but not least named to head it, an ex Kirchnerite ambassador in the US and Portugal, purposely ignorant of Falklands affairs, Jorge Argüello.
And even when governor Bertyone's moves could be seen as successful since Tierra del Fuego has been informed, but not necessarily involved in South Atlantic affairs at ministry level, the Observatory includes representatives of political leaders such as the mayor of Rio Grande, Gustavo Melella, an opponent of the governor, and Congress member Hector Stefani, from President Mauricio Macri's ruling coalition that is considered a good candidate to dispute Bertone's chair in Ushuaia.
Furthermore at the meeting in Buenos Aires Ms Kralikas pointed out that the provincial bill creating the Malvinas affairs secretariat is "unconstitutional", plus rejecting point blank Bertone's claims that diplomacy on the question had not been shared with the governor, as she publicly stated.
According to the Observatory's report the foreign ministry also questioned the "aggressive and confrontational" attitude of Kirchnerism underlining the significance of dialogue with the UK, and the fact they are participating in the fisheries talks and in exchange of information.
Likewise the foreign ministry downplayed the Falklands' oil industry advances pointing out to the high costs of extraction offshore the Islands and the still low price of international crude, are not encouraging.