Typhoon will remain the quick reaction alert fighter in UK and Falklands airspace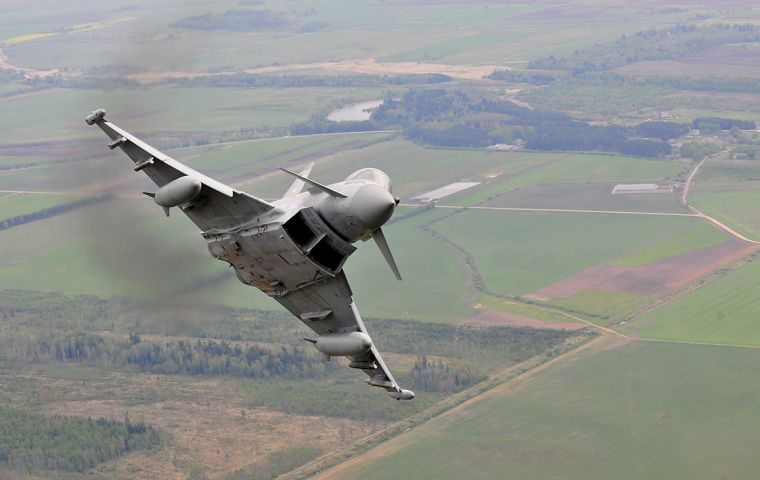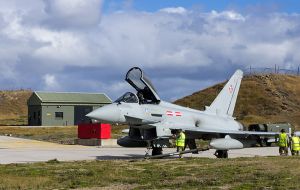 The U.K. has confirmed its commitment to the continued development of the Eurofighter program in accordance with its new Combat Air Strategy. The new doctrine was released by U.K. defense officials on Monday at the Farnborough International Air-show. The strategy indicates that the Eurofighter will be upgraded for decades to come, pending a replacement.
Senior Responsible Owner for the Eurofighter program Air Commodore Linc Taylor said "Our ability to develop a next-generation combat air system must learn from, and spirally develop, the world-class systems that are already on Eurofighter Typhoon," Linc Taylor, senior responsible owner for the Eurofighter program at the U.K.'s Ministry of Defense, said in a BAE Systems press release.
CEO of Eurofighter Volker Paltzo said "Eurofighter will remain the dominant fighter aircraft in Europe for the next 30 to 40 years," added Volker Paltzo, CEO of the Eurofighter program. "The technologies we are developing for Eurofighter today will go hand in hand with those technologies we expect to see on a future European fighter program, manned or unmanned."
The Eurofighter Typhoon is the U.K.'s primary Quick Reaction Alert fighter for defending its domestic air space in the mainland and Falkland islands. It is a multi-role fighter capable of air superiority and ground attack missions with partial stealth capabilities.
The aircraft is built by a consortium of European defense companies and has been adopted by several European nations. The U.K. currently has more than 70 Typhoons in active service.