Falklands' survey says air link and telecoms biggest barriers to business growth
Friday, July 20th 2018 - 04:18 UTC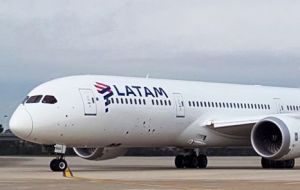 The biggest barriers to business growth in the Falkland Islands are the air link to Chile and telecommunications bandwidth (speed and quality) according to the Falkland Islands Development Corporation Business Climate Survey. In the survey to which 106 businesses responded (a 42% response rate) 30.86% selected those options.
The report released last week said, "Perhaps this is not overly surprising considering the ongoing issues with rotor winds at MPC, and the knock-on effect it has had on LAN flights being delayed by 24 hours over the last 12 months..."
It adds: "alongside issues regarding capacity, cost and reliability of freight services relying on air links, and the renewed Telecommunications licence, which had been felt by many in the private sector, to have been too heavily in favour of the provider and not the consumers."
New business
However it's not all bad news; impressively, since 2011, there have been 41 new businesses established, 29 from 2011-2016 and 12 in the last 12 months.
Over the period of 2016-2018, 22 new businesses have been founded and these recent additions include Construction, Tourism, Retailers, Fishing and Business Services. This is a significant increase from the 2016 survey with the number of new businesses over a
2 year period nearly equalling the 24 start-up businesses reported between 2011-2016, a five year period.
It is noted in the survey "The establishment of so many business start-ups suggests a period of growth and confidence in the economy of the Falkland Islands..."
Turnover
In 2016, 50% of respondents reported that their business turned over £100k or less, this lowered to 48% in 2017 and is forecast to fall again in 2018 to 41%. The number of business reporting a turnover between £101K and £1m has increased from 30% in 2016 to 32% in 2017 and is predicted to increase by a further 8% reaching 40% in 2018.
The number of businesses reporting that their turnover was in excess of £1.01m was 20% in 2016 and 2017, with a slight decrease to 19% forecast for 2018, this decrease however, is due to the increased number of businesses reporting their forecast turnover for 2018 from 82 to 84.
The increase in the number of businesses reporting a higher turnover in 2017 compared to2016 suggests that commercial activity has increased in the Falklands and is predicted to continue to increase in 2018.
These figures tie in with assumptions previously made in this report that the business community is viewing the Falkland Islands economy as growing and reflects the increased optimism shown in responses to earlier questions.
Among other interesting findings, this year a record number of businesses selected 'Tourism' as their primary sector. A total of 16 businesses identified as operating primarily in 'Tourism' and identified 5 subsequent sub-sectors that their businesses operate within; 'Business Services', 'Fishing', 'Land Transport', 'Restaurants and Hotels' and 'Retailers'.
'Business Services' was the most selected sub-sector with a total of 6 responses. (Penguin News).-