Capital flight from emerging economies will be on the G20 table, anticipate Brazilian sources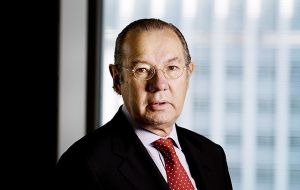 At this weekend's G20 meeting in Buenos Aires, finance ministers and central bankers will address the economic situations threatening a number of emerging markets -- including host nation Argentina, which recently secured a US$50 billion IMF loan to try to stabilize its economy, after the peso plunged 35% between April and June.
"The situation facing certain emerging markets is more delicate with the rise of the dollar and the question of capital flows," a G20 source stated.
As well as the dollar, rising oil prices and US interest rates has helped fuel the capital flight from emerging economies such as Brazil and Argentina, with investors taking out US$14 billion between May and June.
Economist Rubens Barbosa, former Brazilian ambassador to Washington and London, says Brazil will try to defend multilateralism in international trade - notably as upheld by the World Trade Organization.
"In Buenos Aires, what will be on the table is protectionism and the strengthening of the WTO from the point of view of emerging countries such as Brazil," he said.
Amidst such tensions, ministers will discuss the upsurge in debt amongst the poorest countries in the world, but not everyone believes there is a genuine resolve to do what's best for others.
"If you analyze attentively the final communiqués of these groups, historically they only showed what was agreed upon," Nicolas Albertoni, a Uruguayan researcher at the University of Southern California said.
"Now, they also highlight what wasn't agreed upon, which demonstrates a rise in nationalism. Now, governments don't consider reaching agreement a success, but rather preventing it."