From Belfast PM May calls on the EU to prevent a hard border in Ireland
Saturday, July 21st 2018 - 08:10 UTC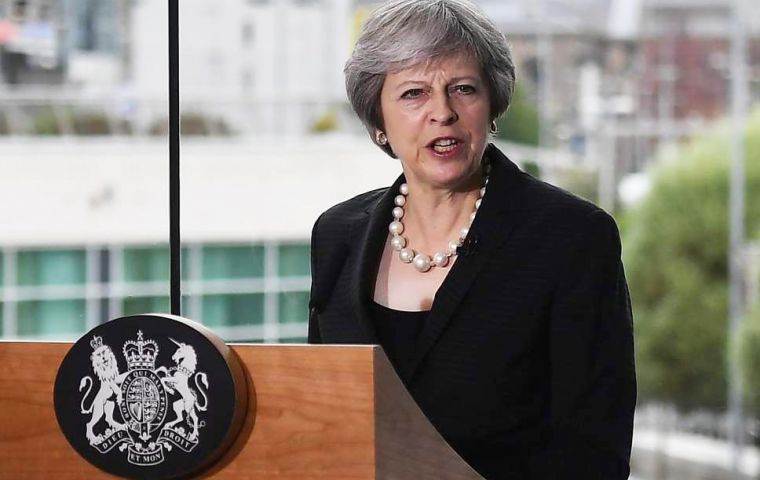 British Prime Minister Theresa May on Friday called on the European Union to strike a new deal to prevent a hard border in Northern Ireland and demanded Brussels quickly respond to her 'white paper' plan to avoid a damaging no-deal Brexit.
In a speech to politicians and business leaders in Belfast's docklands, May accepted a hard border between Northern Ireland and the Irish Republic once Britain leaves the bloc would be "almost inconceivable", but dismissed the EU's current plan as "unworkable".
Instead, May said the EU must engage with her Brexit 'white paper' policy document released earlier this month, which proposes negotiating the closest possible links for trade in goods to protect businesses and to fulfill a commitment to avoid having infrastructure on the border.
It is "now for the EU to respond. Not simply to fall back onto previous positions which have already been proven unworkable. But to evolve their position in kind," she told the audience at Belfast's Waterfront Hall.
Still reeling from the resignation last week of senior cabinet members and with her own political future uncertain, May will also call on the European Union to give some ground in talks on Britain's departure from the bloc.
May flew to Northern Ireland on Thursday for a two-day visit to see up close the troubled British region's frontier with EU-member Ireland, which has become one of the biggest stumbling blocks in the negotiations.
After quitting the cabinet, former Foreign Secretary Boris Johnson singled out her treatment of the border as the biggest mistake of her negotiations with the EU for a smooth exit from the bloc next year
May's Brexit 'white paper', the policy document which prompted Johnson's resignation, proposes negotiating the closest possible commercial links for goods trade to protect businesses and to fulfill a commitment to avoid having infrastructure on the border.
The 500-kilometre border has been largely invisible since army checkpoints were taken down after a 1998 peace deal ended three decades of violence between the region's pro-British majority and an Irish nationalist minority. Over 3,600 died.
"The economic and constitutional dislocation of a formal 'third country' customs border within our own country is something I will never accept and I believe no British Prime Minister could ever accept," May asserted.
The Irish government, which has said it has concerns about May's white paper, on Friday said a backstop was essential, but could be renegotiated.
"The only thing that could replace this current form of a backstop is, No. 1 something which is better; No. 2 something which is agreed and No. 3 something that would be legally operable," Finance Minister Paschal Donohoe told RTE radio.