China wants a long-last relationship with Brazil in agricultural goods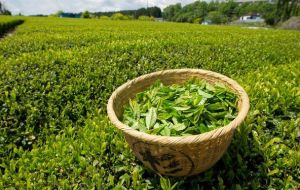 Reports that China wants a "long-last relationship" with Brazil in terms of trade in agricultural goods and other products received attention in Asian markets. The two countries are ready to take their trade relationship "to new levels" amid an escalation of global trade wars, China's ambassador to Brazil Li Jinzhang said during an agribusiness conference in São Paulo on Monday.
Li said the two countries should take advantage of the multilateral mechanisms, such as the World Trade Organization to strengthen trade ties. "Sino-Brazil relations began with agriculture some 200 years ago when tea farmers from China visited Rio de Janeiro," he said.
China unveiled a package of policies on Tuesday to boost domestic demand as recent trade developments continued to threaten the country's economy growth.
China would ease restriction on banks' issuance of financial bonds for small local firms, and would give tax cut on R&D expenditures among other measures, according to a government statement, adding that fiscal policy should be more proactive, although policy makers would refrain from using stimulus to flood the economy.
Separately, China's foreign ministry spokesman Geng Shuang said China is not looking to boost its exports through devaluing the yuan.
"The exchange rate of China's RMB is determined by the market. There are ups and downs. It's a two-way float," Geng said at a regular briefing in Beijing when asked to comment on U.S. President Donald Trump's remarks on the yuan.
Trump accused China and over the weekend that it was manipulating its currency which caused U.S. to lose its competitive advantage.
Elsewhere, Japan's Nikkei 225 rose 0.6% in morning trade. A preliminary private survey showed on Tuesday that the country's manufacturing activity grew at the slowest pace in over one and a half year in July.