Argentina defense minister insists that Armed forces will not intervene in social conflicts
Thursday, July 26th 2018 - 06:16 UTC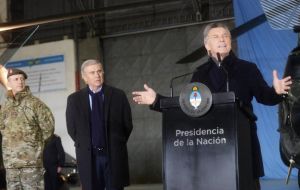 Defense Minister Oscar Aguad has rejected the idea that modifications to the Defense Bill will give Argentina's Armed Forces the power to intervene in social conflicts. He also underlined the military will not replace the Gendarmerie along the borders. The comments follow demands from the opposition to have Congress address the issue.
"It never occurred to us to think of a hypothesis of that nature (of the Armed Forces patrolling cities or intervening in social conflicts). This is a problem for the security forces," the minister said.
"The military's presence on the borders will not replace the Gendarmerie. What is planned on the border is to prevent drug trafficking and international terrorism from taking root in Argentine territory", he added.
On Monday, President Mauricio Macri announced a change in Argentina's national defense policy, which includes the expansion of the responsibilities of the Armed Forces into domestic security and their participation "in the safekeeping and protection of strategic objectives."
"There are many vulnerable populations living in the north of the country. We are going to work in these populations and our motivation is to try to prevent groups of this nature from taking root in Argentine territory," Aguad said.
"We're restoring legality. Former president (Nestor) Kirchner had exceeded this and limited the actions of the Armed Forces", he told news agency Notices Argentinas, adding that he thought the Defense Law issued by the government of former President Raul Alfonsín 35 years ago must be reviewed by Congress.
"We have to revise our Domestic Security Law and the Intelligence Law, which (together with the Defense Law) are the three pillars of security in Argentina," he said.
"Faced with modern technologies that influence defense, we must discuss and reach consensus in Congress to draft a new law".
Decree 683/2018, published in the Official Gazette, establishes the operational participation of the Armed Forces in tasks to support the Security Forces. It was signed by President Mauricio Macri, Cabinet Chief Marcos Peña, and Defense Minister Aguad.