China calls on BRICS members to uphold multilateralism and reject protectionism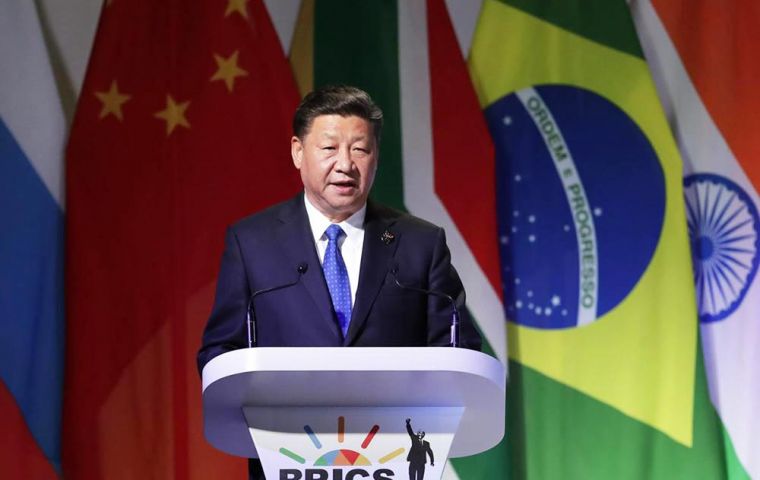 President Xi Jinping called on BRICS members to uphold multilateralism and improve global governance. Trade wars should be rejected because there will be "no winner", and those who pursue such a course "will only end up hurting themselves," the Chinese leader said at the BRICS summit in Johannesburg on Wednesday.
Brazil, Russia, India, China and South Africa must jointly reject unilateralism and protectionism, which "are mounting and pose a severe blow to multilateral trade".
US President Donald Trump has imposed billions of dollars of tariffs on Chinese goods to retaliate for what he says are unfair practices that have resulted in a huge trade imbalance. Escalating trade tensions are threatening to derail a global upswing that's already losing momentum amid weaker-than-expected growth in Europe and Japan as financial markets seem complacent to the mounting risks, the International Monetary Fund warned on July 16.
The annual summit of the group of emerging economic powers first identified by former Goldman Sachs Asset Management chairman Jim O'Neill is the 10th since its leaders started meeting. O'Neill coined the BRIC term in 2001 to describe the four emerging powers he estimated would equal the US in joint economic output by 2020.
Brazil, Russia, India and China invited South Africa to join the group in December 2010. The five countries' GDP is now more than 90% the size of US output.
"The current international order is not perfect but as long as it pursues a win-win situation for all countries, it must not be discarded as one pleases," Xi said.
"We should pursue inclusive growth. Uneven development is a common challenge. Developed countries must increase support to developing countries."