Argentina and Spain sign fisheries MoU to promote conservation and management of straddling species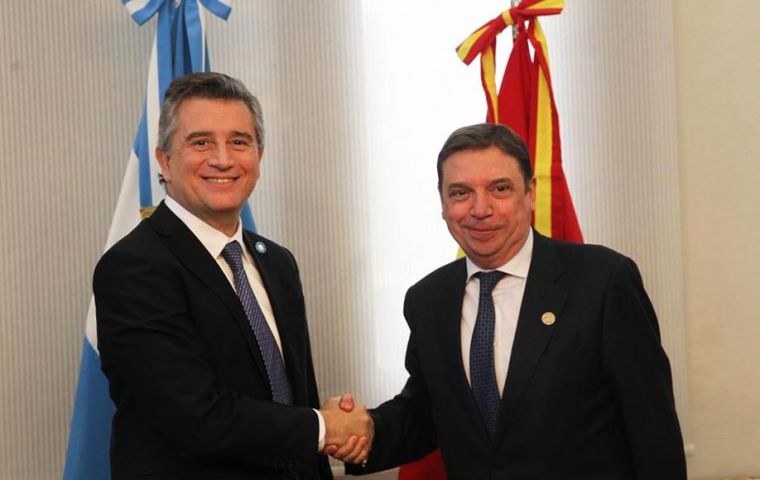 Argentina and Spain have signed a fisheries and aquaculture bilateral cooperation Memorandum of Understanding. The MoU was stamped in Buenos Aires during the recent G20 Agriculture, Livestock and Fisheries ministerial meeting by Argentina's Luis Miguel Etchevehere and Spain's Luis Planas.
The MoU establishes a framework of cooperation to reinforce the bases for an improved maritime sector potential exploitation and ensure conservation and a sustainable management of straddling species.
It will also coordinate efforts to combat illegal, undeclared, unreported fishing and collaboration in scientific research in the area adjacent to Argentina's Exclusive Economic Zone. Cooperation will also be extensive to technological exchange on production and marketing, with training and formation programs.
The two countries will exchange information on fisheries, scientific knowledge in fisheries research and related activities. Argentina and Spain will share information and technology in the fields of catches, aquaculture breeding, transformation, distribution and related activities, are some of the outstanding points of the MoU.
At the signing ceremony minister Etchevehere praised the deal and also thanked Spain for being "a crucial ally" in the region's efforts to reach a trade agreement between Mercosur and the European Union.
Minister Plana described the MoU signed with Argentina as "very significant, adding "I believe this is the first deal of this nature that Argentina has signed, since we consider it most important for us and for Argentina, and a reference for the whole region in the cooperation and sustainable fields".