US Judge blocks release of software that allows 3D-print firearms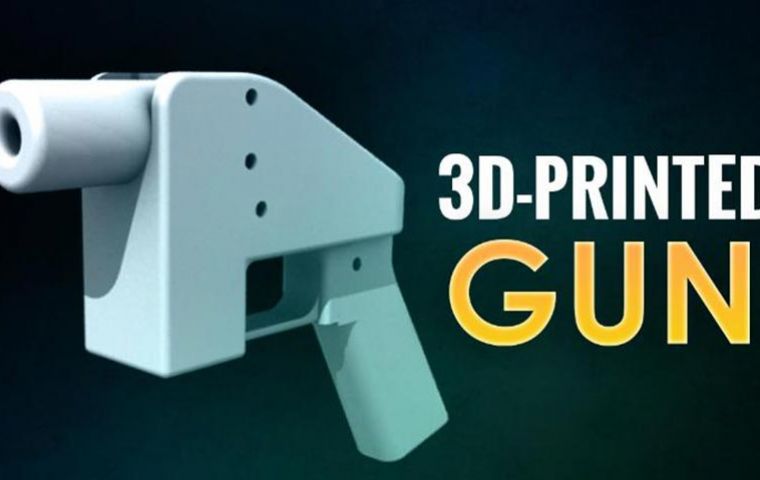 A US federal judge in Seattle has blocked the release of software that allows consumers to 3D-print firearms. Gun access advocacy group Defense Distributed was due to put downloadable gun blueprints online on Wednesday.
The firm reached a settlement with the Trump administration in June to allow it to legally publish the instructions. But eight states and the District of Columbia sued the government on Monday to block the settlement, arguing the untraceable guns were a safety risk.
US District Judge Robert Lasnik issued a temporary restraining order halting the release hours before the 1 August deadline, saying the blueprints could fall into the wrong hands.
"There are 3D printers in public colleges and public spaces and there is the likelihood of potential irreparable harm," he said.
Although Defense Distributed was expected to publicize the plans on Wednesday, more than 1,000 people have downloaded the files for building an AR-15 rifle - the same gun used in many of America's mass shootings - since Friday.
The arguments began in 2013 when self-styled crypto-anarchist Cody Wilson showed off the world's first 3D-printed gun. Files showing how to replicate the process were immediately made available on the Defense Distributed website and downloaded hundreds of thousands of times.
It led the US State Department to order them to be removed from the internet.
There followed a four-year legal battle, with Defense Distributed joining forces with the Second Amendment Foundation - which defends the right to own guns - to sue the State Department.
Last month, in a surprise move, it won its case, with the US Justice Department ruling that Americans may "access, discuss, use and reproduce" the technical data.
Mr Wilson hailed his victory as the beginning of "the age of the downloadable gun".
But critics are concerned it will see a massive rise in so-called ghost guns, unregistered weapons the government is unaware of and is unable to trace.
Since the legal action began, Defense Distributed has been working on new gun designs and has also created a milling device - known as Ghost Gunner - that can turn parts purchased online into a fully working weapon.