Falklands: Sao Paulo as second commercial flight draws strong local response
Friday, August 3rd 2018 - 07:24 UTC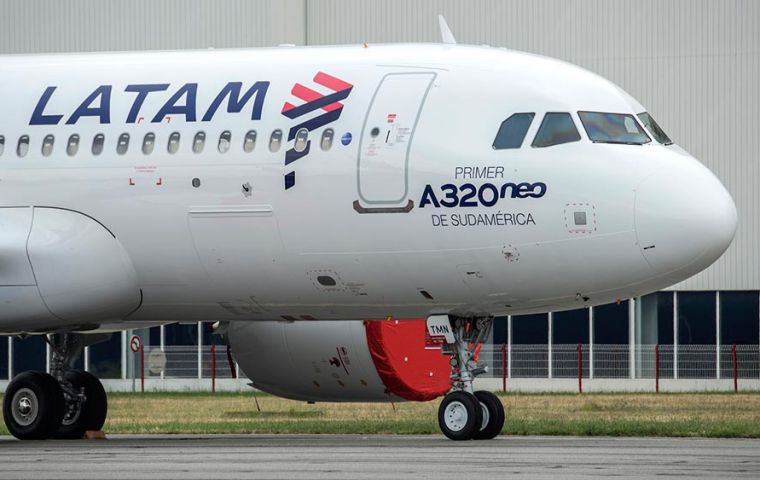 The Falkland Island Government's announcement of their preferred option for a second commercial flight between the Falklands and South America has been met with both applause and outrage, reports the latest edition of the Islands' weekly, Penguin News.
In a statement at the end of last week, FIG said that LATAM "has proposed a mid-week flight between the Falkland Islands and Sao Paulo in Brazil. Further negotiations with LATAM will include discussions on how the stop once a month in Argentina will be met."
Carl Sudder of the Falkland Islands Tourism Association told Penguin News: "We welcome the news of the second flight ... Tourism is an ever-growing industry in the Falklands and discussions regarding a second flight are a significant milestone towards enabling further development."
Carli's views were echoed by Margaret Williams of Falkland Islands Holidays, who described the flight as "exceptionally welcome news indeed. Supporting and enabling business growth islands-wide is essential for us all to prosper. As an industry we must continue building upon developments made to date and while we recognize that there are resource based issues such as availability of accommodation, inter-island transport, sufficient excursion support and so on, there has to be a catalyst for change ...
Moreover, the addition of a second flight should go quite some way towards alleviating the current unpredictability of seat availability season after season."
Tim Miller of Stanley Growers was less enthusiastic. In a letter to Penguin News, he criticizes the flight's Sao Paulo destination, preferring Santiago in Chile. "The route to Sao Paulo flies close by Buenos Aires and I guarantee within a few years Argentina will force the airline to land there." He goes on to suggest that FIG's choice will lead to an Argentine flag over Government House within 20 years. (PN).