Brazil's Workers Party have a Plan B to replace Lula: Fernando Haddad
Saturday, August 4th 2018 - 09:27 UTC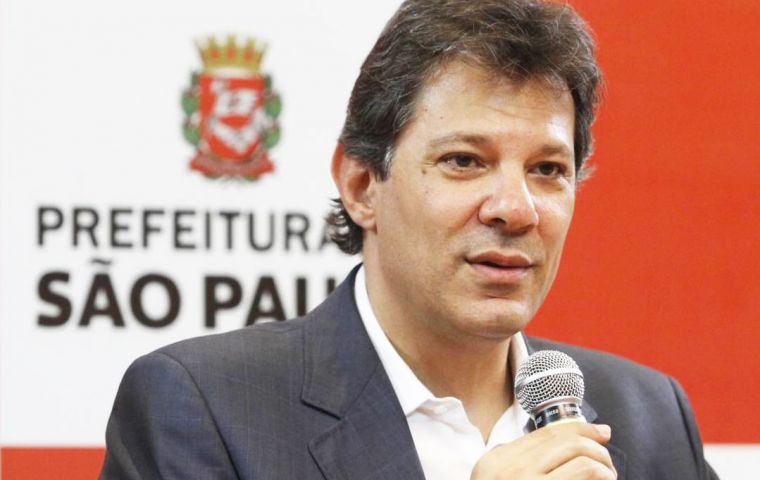 Former Sao Paulo mayor Fernando Haddad will be the Brazilian leftist Workers Party's presidential candidate if jailed former President Luiz Inacio Lula da Silva is barred from running in the October vote, party sources anticipated on Friday.

According to those sources if Lula is able to run, Communist Party hopeful Manuela D'Avila is likely to abandon her own bid for top office and instead become his vice presidential running mate.

But the head of the Workers Party, Gleisi Hoffmann, said after visiting Lula in the federal police building in Curitiba where he is incarcerated that the former president had asked for a few more days for the party to decide about the running mate name.

The 72-year-old Lula leads opinion polls in Brazil's most uncertain race in decades, despite his slim chance of actually being able to run.

The choice of Haddad suggests party officials are coming around to the idea of transferring Lula's support rather than having him mount his own campaign from jail.

Haddad, 55, of Lebanese-Christian descent, lost his 2016 bid for re-election to Sao Paulo's city hall in a stunning first round defeat to rising conservative star Joao Doria.

Haddad's relative youth and distance from the major corruption scandals roiling Brazilian politics had bolstered expectations that he could be the most likely stand-in for Lula. Still, his resounding 2016 defeat and lack of a connection with the party's northeastern base has counted against him.

Despite running for the presidency, D'Avila and her Communist Party of Brazil were widely expected to eventually join forces with the Workers Party.

Lula da Silva leads polls with more than 30% support, but electoral officials are likely to bar him from running due to a corruption conviction.