Brazilian right wing candidate picks an Army general as his running mate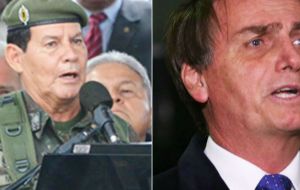 Far-right presidential candidate Jair Bolsonaro picked an army reserve general on Sunday to be his running mate for Brazil's October elections. Bolsonaro, who is the candidate of the Social Liberal Party, announced his choice of reserve Gen. Hamilton Mourao, who belongs to the right-wing Brazilian Labor Renewal Party.
Brazilian political parties are small and seek to form alliances in setting their presidential tickets.
Mourao made headlines last year with comments perceived as supportive of military intervention in politics at a time of widespread corruption. Speaking at a Masonic lodge in Brazil's capital, Mourao said intervention by the armed forces was possible if the country's political problems were not repaired. "Either the courts remove those involved in illicit acts from the public service, or the army will," he said.
After being named by Bolsonaro, Mourao told reporters, "It is an honor and privilege to take part in the country's reconstruction." Bolsonaro is a congressman and former army captain who has said he will fill his Cabinet with former and current military people.
His promises to crack down on corruption and crime have him running second in the polls, though with only about 20% in a crowded field of potential candidates and he has come under strong criticism for numerous racist, sexist and homophobic comments over the years.
He was fined for telling a female member of Congress in 2014 that she was so ugly she "didn't deserve to be raped." This past April, the attorney general charged him with racism and discrimination for comments about blacks, indigenous people, refugees, women and gays.
The front-runner in the polls is jailed former president Lula da Silva of the Workers' Party, who was a highly popular leader during his two terms in 2003-2010. The party formally named him its candidate Saturday, but Lula da Silva is likely to be barred by Brazil's electoral court because he is in prison.
Since April, the former president has been jailed on a corruption conviction, but he denies any wrongdoing and claims he is being politically persecuted.