UK embassy in Uruguay co-organizes major agriculture academic competition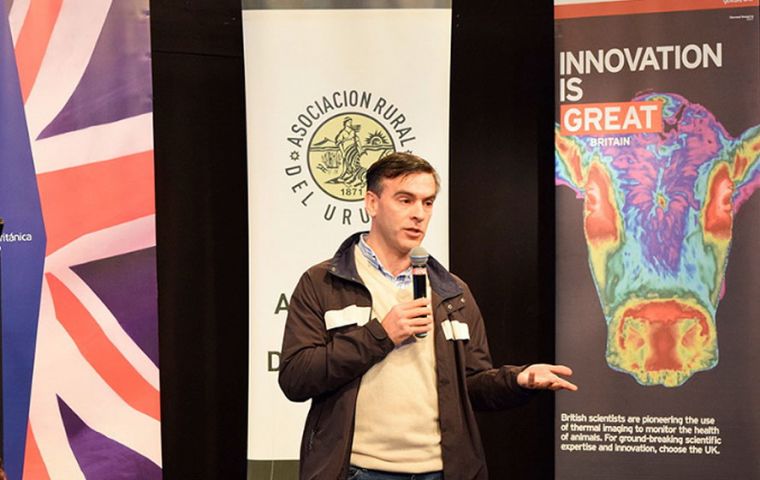 The British Embassy in Montevideo, Cuti, ARU and ANDE are co-organizing the third edition of Hackathon AGRO which will take place at Expo Prado 2018 on 14-16 September. Hackathon AGRO is an open competition for Uruguayan teams made up of researchers, entrepreneurs and experts in Information Technologies, Agro and Business.
Forty young university students and/or professionals in the mentioned areas will solve challenges related to agriculture in Uruguay through the use of technology. These challenges will be given to the participants at the beginning of the contest. They will have to present a business model and a prototype developed within 48 hours.
The Hackathon participants use their complementary skills and experience to develop concrete solutions to a real world issue. It promotes peers' collaboration towards problem solving and focuses on the work process as a training opportunity. In addition, it is a great opportunity to develop creativity skills.
The idea behind Hackathon AGRO is to promote entrepreneurship and innovation in general terms, and in the agricultural production in particular; to find an innovative/commercial solution to a real social problem in the agricultural area in Uruguay; to promote team work among peers, and to strengthen multidisciplinary work in the industry, the academy and the government; to demonstrate the potential and the development of the IT industry in Uruguay, among others.
This activity is free of charge for the participants. The teams will be given full support to be able to work on their projects. Work zones per team will be available; each team will have a mentor and there will be presentations from experts in different areas.
The winning team will travel to London to attend the Agri-Tech East REAP Conference 2018 and visit Harper Adams University. Airfare and accommodation for a week are included.
Those interested in participating can register via web by completing the applications form before Monday 20 August. 40 people will be selected. The final list of participants will be available on Thursday 20 September. For further information please contact ukinuruguay@adinet.com.uy