Falklands' flag to fly all year round in Portsmouth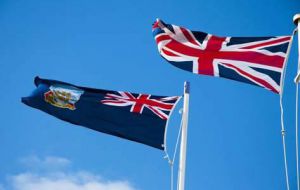 Portsmouth could soon fly the Falklands flag all year round as a lasting tribute to all those who died to liberate the British territory 36 years ago. Plans are afoot to install a new flagpole outside the Falklands memorial in Old Portsmouth to allow the islands' symbol to fly above the entrance to the city's harbor.
A second pole could also be installed which would allow both the Union and Falkland flags to fly side-by-side. Portsmouth City Council is looking into the proposal, that already has the backing of city leaders.
Retired Royal Navy Petty Officer Barrie Jones, 58, has been one of those leading the charge for the permanent symbol. The 58-year-old, of Laburnum Grove, Copnor, fought right the way through the Falklands War, and said he would be proud to see the Islands' flag flying next to the Union flag.
He said: 'It's a national memorial for those people that ultimately gave their lives for freedom. Rather than just having a flag hoisted and flying one day a year, there will be one there all year round. 'I'm not expecting this to happen overnight or to get an immediate "yes". Of course there are quite a few issues that people might have with it – like costs or if it is necessary. 'But I would be very, very proud to see the flag there permanently'.
It's hoped the new memorial could be installed before April 2 next year – the 37th anniversary of the start of the war. Portsmouth City Council leader Gerald Vernon-Jackson was eager to support the scheme, as is Tory boss Councilor Donna Jones.