Brazil and Argentina markets hit by domestic and overseas uncertainties
Friday, August 10th 2018 - 06:51 UTC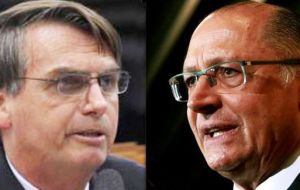 Major Latin American currencies fell against the dollar on Thursday as global trade tensions strengthened the greenback and political uncertainty in Brazil and Argentina. Latin America's largest economy heads into a presidential election in two months time and in Argentina a major corruption scandal is unfolding.
The dollar gained against most currencies as investors bet that trade war posturing and a strong U.S. economy would continue to aid the currency. Trade tensions are seen as beneficial for the U.S. dollar as the United States is better placed then emerging markets to deal with protectionism, and tariffs may narrow the U.S. trade deficit.
Late on Wednesday, Chinese state media accused the United States of having a "mobster mentality," while a key World Trade Organization metric on Thursday indicated that global trade in goods is likely to lose momentum in the third quarter.
Brazil's real currency was especially hard hit, after two polls showed right-wing populist Jair Bolsonaro tying with market-friendly centrist Geraldo Alckmin in the key state of Sao Paulo ahead of the October presidential election.
Traders were also spooked by a Supreme Court decision increasing some government salaries by over 16% in 2019.
"Apparently, the powers that be do not understand the seriousness of Brazil's fiscal situation," said Alvaro Bandeira, head economist at brokerage Home Broker Moda Mais.
Brazil's real fell 0.95% in trade, while the Mexican Peso was off 0.98% and the Chilean peso slipped a more modest 0.26%.
In Argentina the interbank dollar climbed 48 cents and reached 28.71 Pesos, because of growing uncertainty and instability concerns both overseas and in the country.
According to Buenos Aires analysts the demand was speared by the political turmoil surrounding the "bribe notebooks", which exposed and involves the main public works contractors and political officials from a former administration.
Likewise, in this scenario, Argentina's country risk shot 3.9% reaching 633 points, the highest in 37 months.
In equities markets, the biggest major mover was Argentina's benchmark Merval index, which rose 1.11% after the unfolding corruption probe there hit the index hard in recent sessions. The index fell 8.71% Monday through Wednesday. Brazil's Bovespa was down 0.44%.