Black Friday for Argentina: dollar climbs 3.86% and sovereign credit risk reaches 700 points
Saturday, August 11th 2018 - 09:13 UTC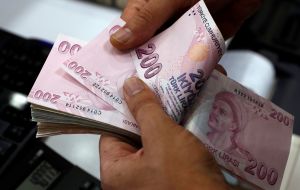 Argentina's peso closed down 3.86% on Friday and the stock market ended 1.44%, pressured by emerging markets turmoil, particularly in Turkey, and a corruption scandal that has touched some of the country's top business leaders, traders said.
Local daily newspaper La Nacion last week published the content of what it said were notebooks kept by a driver employed by the former government that detail how he transported bribe money from construction companies to government officials from 2005 to 2015. More than a dozen arrests have been made as the scandal spreads.
The peso, which has lost almost 40% since the start of the year, was trading at 29.25 per U.S. dollar at the end of the day on Friday. Argentina's Merval stock index opened 3% lower but went on to erase about half of its losses.
Argentina's dollar denominated sovereign debt spread to comparable U.S. Treasuries widened by a whopping 69 basis points on Friday to 701 according to JPMorgan's EMBI Global Diversified index. That marked the biggest yield gap for Argentina since February 2015 and the sharpest daily move of any emerging or frontier market country on Friday.
Likewise call money among the leading banks zoomed on average to 55%, but in a very volatile market finally ended the trading day at 48%.
Investors have shunned Argentine assets this year over worries about the country's economy, sparking a run on the peso. The corruption scandal, as well as general investor flight from emerging markets on Friday, exacerbated the fall.
Furthermore a plunge in the Turkish lira rocked emerging markets, sending investors scurrying for safety in assets such as the yen and U.S. government bonds. The lira has fallen on worries about Turkey's economy, lack of action from policymakers and a deepening rift with the United States.
"The lira is getting vaporized and that's dragging down other emerging market currencies," Nery Persichini, an analyst with Buenos Aires brokerage GMA Capital, tweeted.
The corruption investigation in Argentina will have a negative impact on the country's economic growth, an official with the Fitch credit ratings agency said on Thursday.