Mexican incoming president pledges drastic cuts in privileges and personal security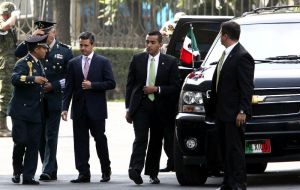 Mexican president-elect Andres Manuel Lopez Obrador said he will abandon the secret service-style protection used by his predecessor in favor of a security detail of 20 unarmed men and women, including lawyers, doctors and engineers.
Since winning a landslide election victory on July 1, Lopez Obrador has painted himself an everyman president, forgoing the traditional trappings of the presidency, but the absence of armed guards has raised fears in a country reeling from political, gang and drug-related violence.
There were more fatal attacks on politicians during the last election campaign than in any other in recent history, and an epidemic of gang violence made last year Mexico's deadliest since modern records began.
Giving his first public comments a day after being officially named president-elect, Lopez Obrador said ten men and ten women would be chosen to provide his security, but described them as facilitators. He said they would not carry firearms, and protection would be kept at a minimum.
"They are going to take care of me. These women and men, and all Mexicans are going to take care of me. And when I talk about all the Mexicans I'm talking about the soldiers, because the soldiers are the people," Lopez Obrador said.
"All Mexicans are going to take care of me, but there will not be this special (government) body to guarantee the protection of the president of the republic."
Lopez Obrador said he told current President Enrique Peña Nieto, who is protected by 2,000 armed presidential guards, composed of military personnel, police and civilians, that he would instead go with the much smaller security team.
Lopez Obrador has promised to run an austere, zero-deficit government, and his approach to security is a clear example of how he is breaking from the mold. The current presidential guards will be absorbed by the defense ministry once he takes office on December first. He has promised to turn the presidential Los Pinos palace into a cultural center, have the presidential plane sold and receive half the salary of Peña Nieto.