Cristina Fernandez in a written statement denies charges and claims they are politically motivated
Tuesday, August 14th 2018 - 06:16 UTC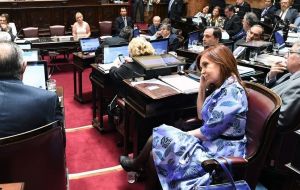 Former President Cristina Fernandez on Monday denied any wrongdoing following recent accusations that she was responsible for a corruption scheme involving public works contracts that has trapped many of Argentina's former officials and business elite.
Cristina Fernandez appeared before a court in Buenos Aires but declined to speak. Instead, she said in a written statement that the accusations by Federal Judge Claudio Bonadio, who summoned her to testify, are false and politically motivated.
So far, 15 people have been arrested in the case. They include business leaders from construction companies and former officials who served in the ex president's administration two terms, 2007/11 and 2011/15.
The case is based on an investigation by the newspaper La Nacion into alleged corruption over more than a decade during the governments of Cristina Fernandez and her predecessor and late husband, Nestor Kirchner.
The newspaper says the driver of one of the accused kept notebooks with detailed information on his deliveries of millions in sacks of cash paid to former officials in exchange for the granting of public contracts in 2005-2015.
Cristina Fernandez's private address, the presidential residence and Government House (Casa Rosada) are allegedly mentioned. She is currently a senator, a post that grants her immunity from prosecution, but the scandal could diminish her chances of running for the presidency again next year.
The case has dominated headlines and has been compared to "Operation Car Wash," the Brazilian probe that has uncovered billions of dollars in bribes and kickbacks and that has resulted in the jailing of many of Brazil's most powerful business leaders as well as former president Lula da Silva and several of his ministers.
Cristina Fernandez was asked to testify in a case in which at least ten people have taken plea bargains. The local press says at least one of them has acknowledged before the judge that Cristina Fernandez knew about the corruption scheme in detail.
Since leaving office, the former president has also been accused of money laundering, possible illegal enrichment and fraud. In December, Bonadio asked Argentine lawmakers to remove her immunity to allow her arrest on a charge of treason for allegedly covering up the role of Iranians in a 1994 bomb attack on a Jewish center.
The opposition which until now had denied removing Cristina Fernandez' immunity, following the latest events and evolving confessions, is now apparently divided and could finally agree to the judge's request. The case will be debated next Wednesday in the Senate.
In her statement, Fernandez accused Bonadio of being "an enemy judge" who has set up five of the six cases against her since leaving office.
"Today, Bonadio again asks me to testify, accusing me of being the boss of a new illicit association. This time, with the construction business leaders," Cristina Fernandez said. "That's my fourth criminal organization. It seems like I'm always the boss."
Late Monday the Argentine federal police on orders from Judge Bonadio searched two flats at Cristina Fernandez address, allegedly looking for elements of evidence. The ex president lives in the fifth floor but police searched the first and fourth floors. The owners of the flats are business associates of the Kirchners, and it is believed that the whole building really belongs to powerful political family,