Venezuela arrests two high-ranking military officers in relation to an attack on president Maduro
Wednesday, August 15th 2018 - 07:23 UTC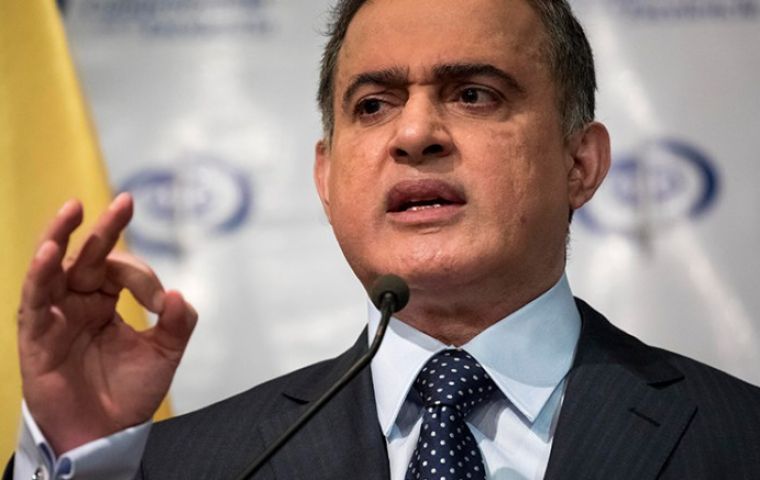 The investigation into an assassination attempt on Venezuela's President Nicolas Maduro using drones has widened to include the arrest of two high-ranking military officers, the nation's top prosecutor said on Tuesday.
The list of suspects — including an exiled opposition lawmaker — has now risen to 34, and officials are seeking arrests in Colombia, Peru and the United States, Attorney General Tarek William Saab said.
"There are 14 detainees who have been presented and charged before the criminal courts," he said. That list of suspects and detainees has nearly doubled since last week, when authorities said they had eight of 19 suspects in custody.
Officials say an assassination plot involved two drones loaded with plastic explosives that detonated near Maduro as he spoke on August 4 at a military celebration in the capital of Caracas.
The first explosion in front of the grandstand caused hundreds of soldiers standing in parade formation to scatter. Seven soldiers were injured, but Maduro and several senior officials nearby were unharmed.
The incident came at a time of political and economic crisis in Venezuela, a once-wealthy oil power that is suffering runaway inflation and shortages of food and medicine that have driven hundreds of thousands to flee abroad.
Saab identified the two detained officers as Col. Pedro Zambrano Hernandez and Gen. Alejandro Perez Gamez of the National Guard. He did not describe their suspected roles.
A 29-year-old opposition lawmaker, Juan Requesens, is also under arrest and charged with treason and attempted homicide. Officials have released a videotaped statement of Requesens that they say shows an admission, but he never appears to confess or mention the attack.
It shows Requesens telling investigators he helped prominent opposition lawmaker Julio Borges, who lives in Bogota, bring a man into Venezuela from Colombia. Relatives of Requesens say he is jailed for being an outspoken critic of Maduro's government, but that he never participated in a crime.
Venezuelan officials have asked Colombia to extradite Borges, and Maduro has offered to show the FBI evidence in support of their case against exiled Venezuelans living in Miami suspected of financing the failed plot.